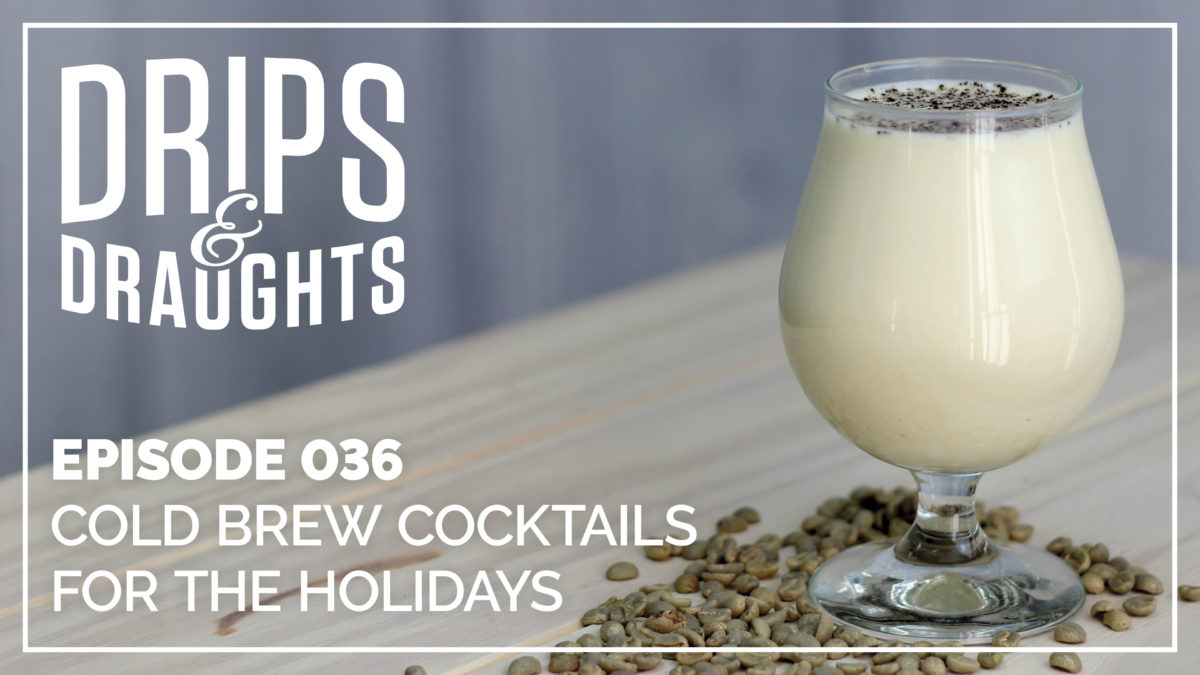 Today we're once again joined by Gino Corrales who was on Episode 25 with us, but it was cut short due to technical difficulties. In this episode, we briefly continue our previous conversation about roasting coffee at home and homebrewing beer. More importantly, we dive into the topic of this episode holiday cocktails, and more specifically, winter holiday cocktails that use cold brew and/or coffee in them. Plus, Gino shares his famous coffee infused eggnog recipe – "Lé Café Eggy Noggy"
Highlights & Takeaways
Roasting coffee is an art – when roasting at home, each roasting machine will be very different
When home roasting on a small machine, over-roasting can be common due to residual heat
What we mentioned on during this show
---
Episode 36 Transcript
[music]
Brendan Hanson: Hey everyone, welcome back to the Drips and Draughts podcast. As always, I'm Brendan Hanson and I'll be your host today. It's beginning to become winter time around here and maybe I shouldn't say that because we have had some guests from the southern hemisphere and it's beginning to be summer time down there. Well, who cares. It's beginning to become winter time around here. Today, my guest Gino Corrales and I discuss cold brew cocktails and how to serve different cocktails both cold and hot while using cold brew or some sort of coffee in them.
If the name Gino Corrales sounds familiar to you, it's because he's been on the show before. If you're curious what episode, it was 25. You could get there by going to dripsanddraughts.com/25. If you're looking for links or show notes from this episode, you can find those by going to dripsanddraughts.com/36. I think you'll definitely want to find the show notes for this episode because one of the drinks that Gino and I discussed was eggnog. He's got a recipe for a coffee-infused eggnog that he's going to send to us. We're going to put in the show notes. I think it's going to be worth looking at and maybe even worth making because one of the drinks that I think is synonymous with Christmas time is eggnog.
While I'm sitting here talking about Christmas time, we'd love for you to give us a gift, an iTunes review. It won't cost you anything. Hop on over to iTunes, leave us a quick review. Let us know what you think of this show. All right, with that, let's get into today's episode with Gino Corrales.
[music]
Brendan: All right, welcome back. I'm joined by Gino Corrales today, who was with me on episode 25. If you're looking to go back and listen to that episode, you can do that by going to dripsanddraughts.com/25. Gino, welcome back to the Drips and Draughts podcast. Good to have you.
Gino Corrales: Thanks for having me Brendan, I appreciate it.
Brendan: Yes, absolutely. Last time you were on the show we talked about roasting coffee, specifically home-roasting coffee and then also using coffee beans, coffee grounds or even cold brew coffee in home-brewing. Pretty good episode, got some good feedback from that. I figured we could catch up. We got cut short last time, so we could see if there's anything we want to follow up on there. Then also, talk a little bit more about coffee and how it could be used in cocktails and stuff.
Gino: Yes, it sounds good.
Brendan: Since last time we spoke, I've brewed a couple of batches of beer. Haven't put any coffee in but Carrie and I were talking about something we definitely wanted to try. We're talking about doing a vanilla porter that's going to have cold brew coffee in it.
Gino: Very cool. What did you guys decide on as far as the method of — Are you going to do like post boil and a first primary fermentation or secondary?
Brendan: I think we're going to do it in secondary because we've added coffee beans into primary, we've added coffee beans and/or grounds in the secondary. We've added some grounds at flame out. We're going to try something totally new this time.
Gino: Cool. Yes, that's what we talked about a little bit, that's how I prefer to do it. Gives you a little more control anyways, especially, since you can taste your cold brew and get it exactly how you want it. Then taste the beer at work, at whatever stage it is that you're going to add it in. Then get a good idea of what it might be like later on.
Brendan: Right, right. Yes, it seems like you can have a lot more control that way.
Gino: Yes, definitely. Definitely
Brendan: Should be fun. We're looking forward to it.
Gino: Should be fun, yes definitely from experiment.
Brendan: Yes. The last show you were on, you and I talked about you're a coffee-roaster but you said that you use popcorn machines to do some test batches and test roasts. That got my wheels turning. Carrie and I ended up getting a roasting machine, a home-roasting machine for here at the office. We started roasting some coffee here and we've had some fun. I actually roasted a batch tonight to take home because I was out of coffee at home. Roasted some earlier —
Gino: That's cool. What —
Brendan: What's that?
Gino: What model did you get?
Brendan: It's a Gene Cafe CBR101. Man, it's an expensive roaster. We had a company reach out to us and ask if we wanted to sell them. We're like, "Well, send us one. We'll try it out.
Gino: "Send us one." [laughs] Nice, nice. Very cool.
Brendan: Yes. We figured, "Let's give this a shot." After we did it, the roasters, gosh, it's simple. It makes it so easy. You basically fill it with beans, set a time, set a temperature and it does the rest. It goes through the roasting process then it cools them. You basically just take them out, and they're good to go.
Gino: That's awesome, yes. You just got to play with the timing, and everything, and the heat, right?
Brendan: Exactly, yes. If you listened to the episode, I think it was episode 29, Carrie and I did that on. We both like dark roast coffee, so we cranked it up. We're like, "Let's start here." [laughs]
Gino: [laughs]
Brendan: We started it. We started recording the episode. We ran out of beer, so Carrie went in the back to grab a beer for each of us. He comes back and he goes, "Oh my gosh, it's so smoky."
Gino: [laughs] Yes, you definitely want to do that outside, it's — Don't ever walk away when you're going — As soon as you hear first crack, you should never walk away. That's the point where you need to pay them most attention because it goes quick.
Brendan: Changes pretty quick.
Gino: Yes, absolutely. Especially, in that small amount. I imagine those things are pretty powerful. Any of the small roast, if you're only doing a little bit it's going to go pretty quick but yes, that's funny you guys started dark. If you had asked me prior, I would have said, "Start with light because it's going to go a lot darker than you plan it to be." Then —
Brendan: Yes, which we're learning because of the cooling process, it continues to darken a little bit?
Gino: Yes, definitely. That's the thing because those home roasters, they're going to keep residual heat. They're pretty small, so it has to cool down all the metal parts, and glass parts, and whatever else is in it before it starts with the coffee, where the difference in the commercial roaster is you're dumping from the hot drum into the cold cooling bin. Which is then drawing that vacuum and really cooling it down really quickly.
You're always going to have carryover, definitely. That wasn't on a carry, that was just, I think carryover like two hours.
Brendan: [laughs]
Gino: You're always going to have carryover in any of the coffee-roasting but those, I feel like — Actually, I just picked up a little, I think it's called a precision coffee roaster at just a garage sale that my girlfriend and I were passing by last weekend. That was the first actual technically home roaster that I've used and aside from the popcorn poppers, which weren't designed for that. Yes, I've been playing with that thing and even that — It's different from — Because the thing about the little popcorn poppers is it's very manual. You stop it when it's done and you cool it in whatever means you have. I've used a colander on a five-gallon bucket with a hole in it, which I've attached a shot back to, so it draws air down.
Brendan: Interesting.
Gino: Then just stir it around the beans in the colander. It cools very quickly that way. Assuming you have a colander that all the beans are covering most of the holes or you move it fast and —
Brendan: Right and it fits the bucket pretty well.
Gino: Right, exactly. Otherwise, because air is going to follow the path of least resistance. If there's no beans on the sides it's going to — All the air is going to come through there but — I'm getting off the point. You're going to have that carry over in the roaster. That's why I said, I would have recommend starting light because it's going to go a lot longer. I feel like just from talking to people who do have home roasters, it's a very machine to machine. It's one of those things, once you learn your particular roaster, you can get a better idea what your settings or what might work.
Like I said, I picked up that little one and I'm still playing with the settings. I was doing some research on it and seeing what was recommended. I think it was Sweet Maria's were saying, they have a bunch of pages on this specific roaster. It says, they started it at six. I was starting this thing at six and I'm like, "This stuff is charred, it's dark." I was having to manually override to go to cool.
I've since played with it. I'm down to I think, it goes one to nine maybe. I'm roasting on two because it's carrying over that much.
Brendan: Wow.
Gino: Just so I can get a lighter roast off of stuff, which I prefer is a lighter roast.
It's tough, especially, like medium and the darker side of medium. It's such a finicky thing with that small of amount. It's tough to get that sweet spot I think in a smaller, smaller amount if you like the darker side of medium or even in the dark without going light side of medium to charred so quickly.
Brendan: [laughs] Right.
Gino: And smoky. [laughs]
Brendan: Yes, yes. That was surprising. Let me go back to the cooling process you were talking about with the vacuum to draw cool air through. Is there a benefit to cooling the coffee faster? Is that helping to lock in flavors or what exactly does that do?
Gino: No, it's just that. It's stopping it from continuing to cook. The longer it goes — If you get it down 30, 40 degrees, it's going to pretty much not be cooking once it gets down under 400 degrees, it's not going to carry over that much. But what I find is you'll start to get what we call baked, which means when you roast a roast too long at a lower setting, you have this — It's a flavor defect called baked or it's just this odd, off, muted weird flavor that overrides any of the nuances of the coffee.
Yes, you want to just cool it as quickly as possible because if you have it at residual heat, it's going and it's constantly still going, you're going to get some of that baked flavor because its such a small amount staying hot for whatever amount of time.
Brendan: Okay. Yes, interesting.
Gino: Yes, you want to cool it as quickly as possible. That's the —
Brendan: Cool it quick.
Gino: Cool it quick, yes. Stop the thing from cooking.
Brendan: When you're roasting that almost sounds like you want to heat it up and get it roasting as — Maybe not as quick as possible but you don't want it to be sitting at — You don't want to take forever to get it up to temperature because you're going to —
Gino: Yes, there's basically under cooked and there's overcooked. That's the thing, if it roast too quickly then it's off. If it roast too long then it's off as well. If you roast too quickly you might get — If it's too hot when you dump in, you might get what's called tipping or you scorch the tips of the coffee. That plays out in the cup later on, it's a burnt flavor. But even then if you just start it too hot — I think I've mentioned this in the last interview was like, "For every rule there's 50 exceptions with coffee." To say that, there are certain coffees that like certain heat level.
For instance, I personally think Sumatran coffee, specifically the wet hole — The [unintelligible 00:02:37] their wet processing of coffees. They take to a really high temperature better in the beginning and then taper down a little. Before the first crack and then just as the first crack starts, I'd ramp it back up with heat. That's one of the really finicky coffees I feel like. I feel a lot of Sumatrans are over-roasted because they just do them like regular coffees. I don't even remember how I came about this but it might have been an accident or something but I just feel the sweetness came out a little more when it was roasted that way but —
Brendan: Very interesting.
Gino: But it's different with other coffees. Some coffees all start a little lower and I'll ramp them up. Some coffees I'll start of a medium heat, and I'll keep going, and then I'll drop it off to get a little more of that caramelization and the mired effect in there. It just depends on the coffee. Like I said, with every rule, there's so many exceptions. That's the great thing about coffee, it's like wine, the more you know the more you realize you don't know.
Brendan: Yes, there's so much you can do to play with it, experiment with it. Like any hobby or any profession that you get into, there's always different avenues you can take with everything I think.
Gino: Absolutely, absolutely. It's an ever changing product, that's the thing. Once you think you got it bottled in, it's a new lot or a new varietal, or a new whatever it might be.
Brendan: Right. Because you don't know what makes up that bean that you're roasting. It could have more water in it, or less water content, or whatever it could be.
Gino: Yes, and they're typically — A better quality, specialty coffee you will get a number but who's to say. I don't know if anyone's really — By the time it gets the roast starting, you're testing the moisture content, there is loss that I think it's 12% to 14%. The coffee have to be in water moisture coming into the US to clear at customs.
Again, I'm not sure where that's tested or how, I've never seen it but I'm sure it's all pretty close to that. But yes, there can be variances and depending on if your coffee is a little older it might have dried out a little bit. If it's a little younger, it might be a little more green. That's the great thing about coffee is there's so many variables. They can either drive you nuts or you just learn to go like,
Gino: "Yes, that's coffee. It's different all the time. It's always a — "
Brendan: You got to roll with the punches.
Gino: Exactly. It's always going to be a challenge.
Brendan: Crazy. All this talk about coffee pointed tonight's episode, maybe talk a little bit about cold brew cocktails. Since we're rolling into the holiday season and winter, maybe let's talk about a couple cold ones and a couple of hot ones, if you've got any ideas on cocktails you might want to share.
Gino: Yes, yes. I've been playing a lot lately with substituting — Actually, it was a buddy of mine. My buddy James sent me this article awhile back on the flavor similarities in Amaro, and Sweet Vermouths to coffee. It just kind of blew my mind. I'm like, "I'd never really thought of it but it's very true." I'm a big Negroni fan. I love Sweet Vermouth. I started playing around with it. Now, I'm using it to sometimes supplement Sweet Vermouth like in Negronis or sometimes even supplement the gin. Something like a cold brew with Campari, and Sweet Vermouth, or Amaro and just drink that after dinner or something. It's fantastic, the flavor just goes so well together.
I feel like I haven't had a drink yet that uses Sweet Vermouth or Amaro that hasn't worked with coffee. It's not even just cold brew. I've been making just regular Negroni's gin, Sweet Vermouth, and Campari and then tossing in. I'll make it when I get home or later on at night. I'll take the coffee that's been sitting there since the morning that I made before I went to work. Throw a couple of ounces in that to dilute it a little bit instead of stirring it over ice to get that dilution. Using that as the water component. Yes, it's delicious man. It's so refreshing and really, really good. That's one thing I've been playing with a little bit with coffee and cold brew.
Brendan: Nice. Those are cold. Any other cold cocktails you've made or curious about making with cold brew coffee?
Gino: Yes, I've also been– Do you know what a Mypressi Twist is? Have you heard of that?
Brendan: No, I have not.
Gino: It's this little handheld espresso — Well, they call it an espresso maker, espresso device. It actually does a genius job. They came out maybe, I don't know maybe five, six years ago, maybe even longer.
They showcased at an SCAA show, Specialty Coffee Association of America show and won Product of the Year, whatever it was. Sold them at the event and they sold out instantly. I think it was like a little — A ball the size of like a softball with a handle on it and it has a little twist in the handle, which is why they call it Mypresso Twist, I'm assuming. Think of that softball now opens up and splits in half. It has a small little porto filter basket in it. Obviously you have to have a decent grinder. Put your grounds in there you tamp them like you would normally and then stick that in the bottom. Preheat the whole thing obviously and then put the top part on it which holds water. Then you pour boiling water into that. It has a little level indicator on it for a single or a double.
Then it takes a CO2 or a nitrous charger cartridge in the back of it. That's the pressure, which I'm like, "This is genius." Because that's enough pressure to get up to your nine bars to cool the shot. Once you put the charger in there, you hold the trigger down and that pressurizes the top chamber, which pushes the heated water that you preheated through the espresso bed, or the coffee bed. You get espresso at the end. It's actually really good quality. It works very well-
Brendan: Interesting.
Gino: Almost instantly I was thinking, "I've got to heat up whisky and run it through this. I got to heat up gin and run it though the coffee bed instead of the water."
Brendan: [laughs]
Gino: I'd still do that. I did it way back when I got it, and I still do it like every now and then. If I want to do a quick — Not wait for my espresso machine to warm up, I just want to do like an espresso martini, or just for friends, and just — It's got that little theater and the wow factor. You pull the shot and it's not just an espresso shot, it's an espresso shot that has the base of the liquid is either gin, or whisky, and it tastes fantastic. Then I'll just make all kinds of cocktails with that just as you would a normal whisky shot, or a normal gin shot, or a regular shot of espresso, a white Russian —
Brendan: You're then cooling that down afterwards or putting it on ice?
Gino: Well, it depends. I've done it that way. I've done some vanilla vodka, like a splash of Kahlua and half-and-half, and then that shot right on top of it, so it floats with the crema. I guess that point it's kind of a — It's not really room temp but it's cool, it's a cooler drink. I've also done it and shaken it like — What's the drink called? The Shakerato, which is a Italian drink where they basically take an espresso shot, pour it in the shaker with simple syrup, and then just shake the hell out of it, then pour it out and it's espresso shot. It's like a chilled espresso shot. I do that the same way but with either whisky or gin as a base, little simple syrup over ice and then shake it. Then you have of a little cocktail shot that is coffee, and whiskey, and or whatever you want in it but yes, couple of–
Brendan: I got to ask, have you tried that — When you're using that Mypressi, it basically becomes a coffee-infused whiskey, or gin, whatever you're using?
Gino: Exactly, exactly. It has everything that an espresso shot would have because you have crema, you have everything else in it. It's just that's the liquid that you use instead of water.
Brendan: Wow. Have you tried that as a shot?
Gino: Yes, I've done it as a shot as well and I hope other people have tried it. I hope I'm not giving away a million-dollar idea.
Brendan: [laughs] Yes, people are just going to be, "This guy is crazy. Why is he talking about it?"
Gino: [laughs] No, it's awesome. I guarantee there's plenty of people who are listening who have one. If they haven't done that, I'd imagine most people who have one have thought about it at some point or another but, definitely try it, it's delicious.
Brendan: Yes, it sounds cool. Whether you're using it for a cocktail or taking it as a shot, it sounds very good either way to me.
Gino: Right. Yes, exactly. It's a whole new take on — Just as we we're talking about it, I was thinking what's the Greek where you do the Sambuca? That'd be awesome with Sambuca running through it
Brendan: [laughs] Yes, you could really put anything in there.
Gino: Anything really, yes.
Brendan: Absolutely. Cool. Those are some ideas for cool cocktails, what have you got in the way of hot cocktails for winter or Christmas and with a little cold brew or some sort of coffee mixed in?
Gino: Yes, an Irish coffee is always a fantastic thing.
Brendan: Can't go wrong there.
Gino: No, you really can't, right. The key is with it, I feel like a lot just like no canned whipped cream. If you can at all avoid it, just hand whip cream to really soft whipped cream makes all the difference with an Irish coffee. Other than that, the sky's the limit. I'll do just a straight, really strong hot coffee with Grand Marnier, which that's for me, the hot coffee and orange or just like such a great — They just team well together. I'll do that or I'll do a straight hot coffee, really strong, some Grand Marnier, little whipped cream and some like Jameson or something. I guess kind of a take on an Irish whiskey and that's awesome.
Another thing I do that I haven't done in a while, I used to do this back when I worked in Kitchens. I would do a French press with– I would take like a one-inch portion of a vanilla bean, split it, toss it in the French press with the coffee grounds, take a nutmeg and just two little quick shavings of it inside of there and just a broken little piece of a cinnamon stick, and then make the French press as I would normally.
We would do this in the morning, sometimes when it was really cool out. Then we'd have these late-night gigs and these late-night catering events and the whole crew would come back and the kitchen staff and we'd just be like, it's cold out and you're just tired. You don't really want to hit the bar or anything. We would do the same thing and then just toss like half coffee and then pour that out, add bourbon to it, and then split that out. It's fantastic. A little bit of whipped cream on top, it's killer. Really good. Also with the —
Brendan: Same thing?
Gino: Yes, same thing.
Brendan: With a little cinnamon and vanilla?
Gino: Yes, cinnamon, a little bit of a strip of vanilla, the coffee and then brewed as you normally would, pour it out, and then add another shot of espresso to each mug and it's golden. Even a little whipped cream on that it's fantastic.
Brendan: Nice. Two questions. One, what is it about winter time and cinnamon? And two, what is it about bourbon and vanilla? Those two things just seem to pair together so well.
Gino:  That's a great question. It's like the same thing with, what is it with wintertime and pumpkin? You can get me a pumpkin anytime. Why is it the pumpkin in May? Pumpkin's delicious.
Brendan: [laughs] Right.
Gino: Why do we only — I guess it's the same thing as cinnamon, I don't know. I think it's that, it's the spice. It's the pumpkin's fault because it's in the pumpkin pie, and apple pie, and all of those things you typically eat at cool weather-
Brendan: I think so.
Gino: – I guess. I don't know. It's a good question.
Brendan: [laughs]
Gino: It's a good question. Although, I do do some cold brew as well with cinnamon and I'll do a cold brew — I'll just like break up a cinnamon stick and let it steep in with the cold brew and then strain it out. I also do another one in the summer, which you should try this if you haven't, where I'll do mint and I'll just take a bunch of mint and just take all the leaves as a bunch in my hand and spank it, just like smack it to release the oils and then throw that in with the cold brew. This works specifically well with an Ethiopan or something that's really like fruit-forward and let that steep. You 24-hour steep and then strain it. It's delicious. But I do the same thing with cinnamon and then cinnamon and mint. It's perfect for summer because it's — I don't know if you know about Phoenix, it gets a little warm in the summer and —
Brendan: So toasty.
Gino: Yes. The mint is just an added — It feels like winter. You know what I mean?
Brendan: Yes, that's got to be a good drink in Phoenix.
Gino:  Yes, absolutely.
Brendan: That got me thinking, if you're adding cinnamon into the cold brew while you're steeping it, I started thinking, "Well, if I fill a Growler with cold brew and I'm done steeping it, I could probably throw a cinnamon stick in there and just let it sit while I'm drinking it –
Gino:  Yes, definitely.
Brendan: – throughout the week. Yes, it'd even change flavor, from day-to-day, I imagine.
Gino:  Probably, you get a little more cinnamon with each day. That's also the kind of the cool thing about — That's why I don't like to use ground cinnamon because I feel like it becomes medicinal and pungent as it sits. But a cinnamon stick, I feel like you don't get that a lot. If you just break it once and leave it in there, it's very subtle without becoming overpowering. Yes. Just a stick itself, that would be awesome.
Brendan: Yes, I agree. You get a totally different flavor when you just use a stick of cinnamon even when I'm making apple cider or something versus putting ground cinnamon in. It's totally different.
Gino: Yes, yes I agree.
Brendan: Let's go back to before the show you had mentioned eggnog, and some espresso beans, and steeping milk. You make your own eggnog, from scratch?
Gino:  Yes. Well, I used to back when I could burn the calories. I don't drink eggnog anymore.
[laughter]
Yes, I've done that where I'll do, you take your egg yolks, and whip them up, and then take the milk portion, and bring it up to a simmer. The milk and cream I would use typically. Then I would just take coffee beans and crack them, either in a Ziploc back or something, hit them with a mallet or something. Not ground, just crack them a little bit and then throw them in there and bring it up to a simmer. Let it simmer for like 20 minutes and then I take that and let it sit in the fridge overnight.
Then the next day heat it back up, then whip egg yolks, add some sugar to that, a little bit of cinnamon, add the hot milk to it to cook them down as they whip. Then whip the egg whites and then fold that into it after it cool it down. It's fantastic because it's not overpowering coffee but it's just enough to give it a flavor. It doesn't taste like — Sometimes if you use coffee, especially if you're heating it that much you get like — It almost tastes like a — I relate it to Hershey's syrup. It has a fake taste almost because it's — I don't know if it's just over-extracted or what it is but when you do that and just barely crack the beans and let it sit, then let it steep overnight in the fridge, it's a whole other beast. Yes, it's awesome. Adds a cool little dimension to eggnog. A little different from —
Brendan: Are you using the coffee beans instead of nutmeg or did you say you put nutmeg in as well?
Gino: No, I use nutmeg as well. I'll just do a quick little — because I buy whole nutmegs. I'll just shave a little bit right on top of the drink. That's the only nutmeg I have.
Nutmegs another one I don't like to cook too much it becomes same thing, medicinal-tasting and acrid. I just go right over the top because it's more smell, right? Your sensory. You're just smelling that and that gives you the impression you're tasting it. It's [unintelligible 00:31:00] and it's not overdone. It's easier to control.
Brendan: Got it.
Gino: If you haven't noticed, I'm a bit of a control freak. I need to control all of my flavors I got to have them —
[laughter]
I let them do what they do to a point but there's a point I got to step in.
Brendan: Nice man. Well, that eggnog sounds good and since we are into December as of recording this, I'll probably release this episode on Friday. I might ask you to write up that eggnog recipe and send that over. We'll put that in the show notes.
Gino: Yes, absolutely.
Brendan: I think that would be fun. I doubt I would be the only person who made it. I think we've got a few other people try to make it.
Gino: Yes, it's delicious.
Brendan: Cool Gino. Well, hey, man I appreciate you joining me again tonight. It was nice to meet you in Anaheim Coffee Fest briefly but —
Gino: Yes, absolutely. Definitely, definitely. I got to say you and for anyone listening, if you're wondering what Brendan and Carrie look like combined, they're probably about 19 feet tall –
Brendan: [laughs]
Gino: – which I did not expect. We were having a conversation it was like, eye to belly button.
[laughter]
I did not expect that but yes, fun little treat for your listeners.
Brendan: Yes. We'll have to — Maybe I'll put that in on the intro or-
Gino: [laughs] Very good.
Brendan: – use that as an outtake from now on.
Gino: There you go. That should still be it.
Brendan: All right, Gino. Well, hey man, I appreciate it. Love all the info that you share. We'll have to get you on in the future.
Gino: Of course, anytime. Glad to be on.
Brendan: All right, man. Take care.
Gino: See you Brandon thanks.
[music]
Brendan: Thank you so much to Gino for joining me today. The guy is really just a wealth of knowledge when it comes to all things food, coffee, drink. You can tell he's been there and done that with pretty much all of those things. Obviously, there's many, many more cold brew cocktails that can be concocted. If you've got one that you like, let us know. Shoot us an email podcast@dripsanddraughts.com or mention us on social media. Our handle is @dripsdrafts, that's D-R-I-P-S-D-R-A-U-G-H-T-S.
All right and once again if you're looking for show notes for this episode, you can find those by going to dripsanddraughts.com/36. Thanks again to Gino Corrales for joining me today. I'm Brendan Hanson and we'll see you again next week.
Mentioned in this Show
Gino's Eggnog Recipe – "Lé Café Eggy Noggy"
Ingredients
16oz Whole Milk
8oz Heavy Cream
1/2 lb Coffee Beans
1 Cinnamon Stick (broken into 2 or 3 pieces)
1/4 Cup Sugar
3T Maple Syrup
4 Eggs
Pinch of salt
4oz Bourbon
Pour coffee beans into a tea towel or large ziplock bag, and smash with a rolling pin, mallet, hammer, heavy pot, or whatever you can find that will help you release aggression. (the alcohol isn't the only therapeutic part of this recipe)
Ok stop! Don't get carried away. You want to smash the beans into large broken pieces not pulverize it into grounds.
Bring the milk, cream, coffee, maple syrup, and broken cinnamon stick to a simmer.
Simmer 20 min then cool to room temp and store in the refrigerator overnight, covered.
The next day, remove the milk mixture from the refrigerator and bring it back to a simmer on medium heat.
Separate the egg whites from the egg yolks and whip the yolks in a stand mixer or with an electric hand mixer, with half the sugar until thick and pale.
Pour the milk mixture through a strainer to remove the coffee and cinnamon.
Slowly pour the hot milk into the egg yolks, while mixing on low.
Chill the mixture in the refrigerator until it's cool (or an ice bath if you're impatient like me – see note below if you don't know what an ice bath is).
Whip the egg whites with the rest of the sugar and the salt until med peaks (looks like a cartoon ocean wave when you lift the beater out of it).
Fold the whites into the milk mixture along with 4oz Bourbon (more or less depending on your preference).
Pour into glasses and garnish with a cinnamon stick and a shaving of fresh nutmeg (or a pinch of ground nutmeg, if you're lazy).