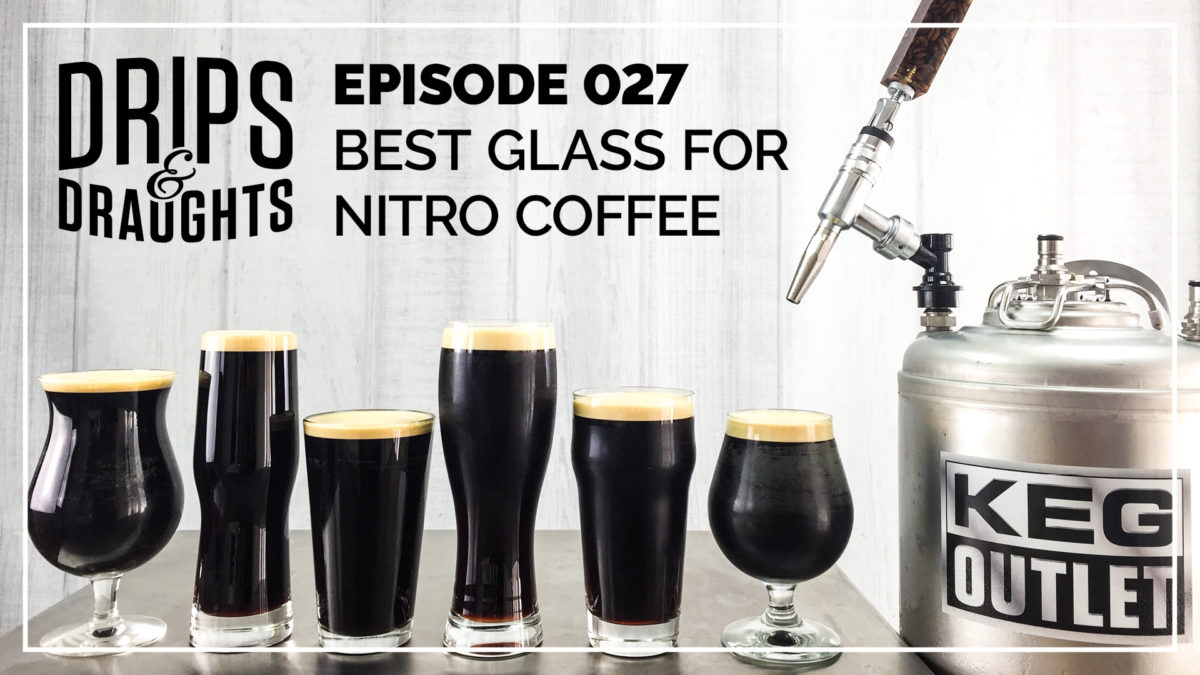 As long as we've been working with draft coffee, and more specifically, nitro coffee we've heard just about every question there is out there. However, one question we rarely get, if ever, is "What is the best glass to use for nitro coffee?" So why is it that the glass is often overlooked? A large part of the reason is that nitro coffee is still very "new" in the grand scheme of things, and the cup or glass is often the last thing that is considered. The biggest point of concern is the cascade effect and achieving the nitro head.
So I ask you…. Does the glass even matter? The answer of course, is YES. Look at all the different types of glasses for the different styles of beers. Look at the different types of glasses for the different styles of wines. The type of glass that you use can do a lot for the taste, smell and in nitro coffee's case the appearance and presentation of your drink.
In this episode we review some of the different options when it  comes to glasses and we discuss the best options and some of the not so good options when it comes to glassware for serving your nitro coffee. We also briefly discuss CoffeeFest and the inaugural America's Best Cold Brew Competition.
Highlights & Takeaways
The inaugural America's Best Cold Brew Competition recently took place in Anaheim. Congrats to Klatch Coffee for winning the inaugural competition. PS – Would love to get Klatch Coffee on the show!
The Great American Beer Festival / GABF starts this week, in honor, we enjoy some Firestone beers:
Easy Jack Session IPA
Pale 31 Pale Ale
Many options when it comes to choosing glassware, here are some common types of glasses:
Goblet / Chalice / Schooner – Wide mouth, rounded bottom, vertical sides

Pilsner Glass – Slender, tapers down

Pint Glass – Wide opening, tapers down.

US / Shaker Pint / 16oz – staight sides

Imperial Pint / 20oz – ridge, bulge toward the top

Snifter / Cognac Glass – wide bowl/bottom, tapered mouth

Stange / Cylinder – Vertical walls as the name suggests – similar to a Tom Collins glass

Tulip – stemmed glass, bulbous bottom, tightens in the waist then pushes open at the mouth
What we mentioned on during this show
---
Episode 27 Transcript
Brendan Hanson: Today we talk the best glassware for nitro coffee.
[music]
Brendan: Welcome to the Drips and Draughts podcast where we help you bring your craft to draft. From soda to beer and from coffee to kombucha, we'll discuss making your favorite craft beverage in small or large batches and how to best serve it on draught.
[music]
Brendan: All right, welcome back to the Drips & Draughts podcast. As you heard it from top, we're talking about the best glassware for nitro coffee. In addition to that, we also get in to coffee fest and the first cold brew competition that they had at coffee fest. Outside of that, we haven't got any new reviews since the last episode. We do have a couple more to read but we're looking for some more reviews. As you guys know, if you've listened before, it's easy to do; just hop into iTunes, click to rate and review us. It doesn't take you very long, it's not hard. Just leave us a few words, leave us an honest review. We'd appreciate it. It helps the show out. Take a minute and make that happen.
Today's review that we're reading is only a four-star review. But we're considering four-stars great in this case because this review comes from a competitor. Here's the review.
The title is "Excellent source of information" by Northridge Brewer and it starts off; First caveat, I'm a direct competitor of Keg Outlet in the same general location. That said, Brendan is an excellent interviewer and the podcast is first rate. We serve a lot of cold brew retailers. All his information is accurate and helpful to the startup as well as those going to the next level. His guests are cutting edge and the best part of the podcast. Why only four stars? The first few podcasts were a bit slow and some of the podcasts like the one about beer and coffee were just "milling in it". Also, in my opinion, just a few too many commercials for Keg Outlet especially in the early episode but that's understandable. He's doing the work and she [sic] gets some kudos for it. Keep it up. I never miss an episode.
Thanks for leaving that review, Northridge Brewer. We appreciate it and to be honest, I agree with you 100%. I think the guests are the best part of this podcasts as well. But releasing episodes every week is proving to be difficult sometimes, scheduling guests and interviews and all that fun stuff. We get the occasional show where it's just me or today's show we've got Cary in the studio with me.
If you're listening today and you think you might want to be a guest on the show, go to dripsanddraughts.com/guest. Schedule a time to book an appointment either to record an episode or just to see if you'd be a good fit. Hey, Northridge Brewer, if you're ever in the area, stop in and you could be a guest on the show. Sure we could think of an episode to record. Again, thanks for the review and if you're listening and you get any value from this show, please leave us a review.
All right, if you're looking for show notes for today's episode, you can find those at dripsanddraught.com/27. Now let's get into today's show.
[music]
Brendan: All right, welcome back to the Drips & Draught podcast. As always, I'm Brendan Hanson. Today, Cary's in the studio with me and we're going to be talking about the best glass to use for nitro coffee. But before we get into that, I'm going to talk a little bit about this past weekend, we had a crazy weekend. We went down, visited a friend who works at Ballast Point in Long Beach.
Cary: Yes, that's fine.
Brendan: That was awesome. That place is incredible. What did he say, there are 670 seats there?
Cary: Yes, something like that.
Brendan: Plus, it's their sour beer facility so they brew on site their sour beers there. You got just an incredible place.
Cary: Yes, I've seen some of those wood barrels that they're aging stuff. Well, I think he said —
Brendan: Those big oak fodors.
Cary: I think they said they were going to age their first one for 18 months or something like that.
Brendan: Yes, it's amazing.
Cary: It's incredible.
Brendan: Tying up real estate right on the beach.
Cary: That much real estate for 18 months.
Brendan: Yes, that was fun. We were going to have a Ballast Point beer today but we had so much on Thursday.
Cary: Yes, I'm fried. I'm fried still.
Brendan: Had to move on to a Firestone drinking Easy Jack at Session IPA here and always a good beer. Since it's the end of summer, I figured that'd be a good one. What did you go with?
Cary: Right. The Pale of 31, just a pale ale. You can't really go wrong with this. I think we've had them on the show, probably every time.
Brendan: Firestone beers and Firestone's won a lot of awards, gold medals at the Great American Beer Festival which actually starts tomorrow. That's in Colorado. It starts tomorrow, goes through the weekend. We're going to have to make a trip out there one of these years.
Cary: Yes, I'm jealous for anyone that's there right now for sure. What did they say, the tickets sell out within like a matter of minutes of going live or something?
Brendan: Yes, it's like if you've tried to go see a Rolling Stones concert or something –
Cary: It's just crazy.
Brendan: It's gone all Adele, right? She sells out like crazy. After we went to Ballast Point on Thursday night, we went down to coffee fest on Friday and hung out there, watched some of the latte art competition before we went in. Then, saw the first round of the cold brew competition which was cool. I was interested to see it. I guess it was the first time they've ever done that.
Cary: Yes. I got to meet up with some of our clients actually there and then go through and taste a bunch of different coffees which was fun.
Brendan: It was fun. I couldn't imagine staying through the entire day and tasting them all because just after getting into the end of that line.
Cary: We were in there for maybe 15-20 minutes and I was just jittery as heck. We had just drank so much coffee so quickly. Even worse, I think there's no real food vendors there. There's some people with pastries and candies –
Brendan: Right, things like [unintelligible 00:06:30] center.
Cary: That's what you need, caffeine and then you need to put sugar on top of it so it felt like, "Oh my gosh."
Brendan: We did each get a $5 package of beef jerky. There was about one ounce of jerky. There was dried awful jerky, it was just bad. But that cold brew competition was cool first time that they did it. I think it would have been cool to see it done a little bit differently because cold brew can be pretty broad.
Cary: Right, we definitely had some critiques on that aspect going through. It was cool because you got to have like an all different coffee. A ready-to-drink or a nitro but when you're trying to compare these different coffees, if you're just trying to go on flavor, it's tough to because you get a nitro coffee and then you get a flat coffee. It's a totally different mouth feel. I feel like they needed to set up to more guidelines or restrictions to make it more of a balanced –
Brendan: Do different categories.
Cary: Yes, that would have been cool.
Brendan: Nitro cold brew has its own bracket and ready-to-drink has another bracket, and that may be concentrated as at there. Because we went down the line, we had a nitro coffee and then I think in one or two cases that was competing against just a flat cold brew. Then there was one that we had, I think it was a concentrated because they gave us an ice cube and poured it over ice which was cool.
Cary: That was great, having all the variety but it's just really hard to compare one after the other. It was unfair, I would say.
Brendan: Yes, it's like trying to rank an IPA against a Stout. Going down that type of thing, obviously you're going to have a preference on the style of beer and I think that comes through in the different styles of coffee. That's just our 2 cents coffee fest, maybe next time. But who are we? Who are we anyways? Today we're talking about the best type of glass for serving nitro coffee. Why does that even matter?
Cary: This is fun. I thought about this for a while because my favorite type of glass that I drink beer and even coffee at home when I pour my iced coffees is like a tulip style glass.
Brendan: It's because you're fancy.
Cary: It's right, I know. I just like it. It doesn't matter the type of beer, it's great for a stout. it's great for an IPA. It doesn't matter, it just looks cool in it. But when we pour the nitro coffees in it, we find out that it's not really the best glass to see the cascading effect in. But we can go through the list and this is a cool episode to do and just have fun with and try all these different shapes.
Brendan: Before we get into all the different types of glasses, why does the glass matter? I just wrote a couple of notes down. One is obviously the cascading effect when you pour nitro coffee, in my opinion, you want to see that cascade. You want to see the bubbles just water flowing down. Then you also want to have a good solid head on the top of the glass. You want a glass that's going to enhance both of those things.
Cary: Maintain that frothy mouth feel through every sip.
Brendan: Then I'm sure we're going to get questions, "Won't any glass work?" Absolutely, if it holds water then it will hold nitro coffee but you want to enhance that experience for whoever's drinking the coffee. I see nitro coffee a lot of times poured into just a plastic glass, lid put on it, and a straw put in it. In my opinion, that's –
Cary: Not the right way to go about it.
Brendan: Not the right way. It's going to happen in public settings or events, but if you can serve a nitro coffee into a nice glass, I think it's just going to make the experience and the taste and the flare, just everything is going to enhance it and make it that much better. Before we get into the glasses, let's go through what would be a good glass for nitro coffee. What are some of the criteria? We mentioned showcasing the waterfall. I think that's one of the biggest things is right after you pour it, if you put that glass down in front of somebody.
Cary: Let him watch it for 30 seconds to a minute, however long it takes, that's half the experience.
Brendan: It's so cool. Just watching it cascade and you see so many colors that you wouldn't even realize were in the coffee. I think that's probably going to be the biggest criteria. Another thing you want to look for is, you don't want the glass to catch any of the bubbles, and when I say catch any of the bubbles, you don't want any of the foam or micro bubbles that are trying to work their way up. You don't want them to just stick to the side of the glass. That's going to come. One, obviously, you have to have clean glassware. If you don't have clean glassware, you're in trouble. But also the shape of the glass is going to contribute to that. Then finally, the creamy frothy head, you want that to be able to be showcased. You want somebody to see, "Wow, that looks like a beer".
Cary: Yeah, "What is that?"
Brendan: Anything else you think that makes for a good glass for a nitro coffee?
Cary: I think that's it. We'll talk about the shapes and stuff in a little bit but there are definitely cool shaped glasses. Like I was saying I love this tulip-shaped glass but I found out sadly to say that it's probably one of the worst glasses I think for the nitro and it bums me out but what can you do.
Brendan: You can have your cold brew in there.
Cary: That's right.
Brendan: All right. Moving on to the types of glasses. First stop, we've got your goblet or also known as like a chalice or a schooner. These are just wide mouth glasses. They've got rounded bottoms and typically vertical sides. One glass that I think of in particular is the Chimay glass. Just a little goblet, it's stemmed. This actually work well for nitro coffee in my opinion with the exception that they're just so wide. Typically they're as wide as they are tall.
Cary: You're not going to get us this tall over cascading effect you might get just like a half inch or inch worth going on in that glass.
Brendan: Yes, you're going to lose some of that. The goblets and the chalices, they're nice because they do have vertical sides. They don't taper in toward the mouth. They pretty much round at the bottom and then they go straight up the side. Those are nice glasses but being that they're so wide, may be not the best for pouring nitro coffee. Next stop, we've got a pilsner glass. Pilsner glasses are super tall. I think we might have one here at the office somewhere. We did a pour in to one of them the other day. Pilsner glasses work well. They're tall, slender, typically tapered down toward the bottom.
Cary: Or have maybe a little bit of indentation but for the most part, just tall, thin and slightly tapered.
Brendan: Yes, and I think the thinness and the height of the glass is good for nitro coffee because you get that long, long, long waterfall effect. It's more to watch. It's more fun. Pilsner glasses, a good glass. Next stop, we got pint glasses so wide opening up top, tapers down toward the bottom. With pint glasses, you've typically got two types of pint glasses. You've got to the US, the shaker pint glass it's basically like an upside down triangle, a cone. Big opening and then tapers down toward the bottom and then you've got the imperial pint glass which is 20 ounces, kind of similar shape but it's got like this glass here. It's got a bubble or a ridge.
Cary: Yes. A small bubble around the top third area of it and we'll be putting all these pictures of these glasses on our website after the show or whatever for everyone to see.
Brendan: There is some pros and cons. Both of these in my opinion if they weren't 16 and 20 ounces, both of these will be great nitro coffee glasses.
Cary: Yes, they're not the most fun to look at but from what we found, they provide the best cascading effect and just look at Guinness. That's what they pour in to basically, right?
Brendan: Yes, most of the time just into a pint glass
Cary: Into a pint glass and they've been doing it since beginning of time exactly. I think they've done the research and we've tested all this and –
Brendan: Actually, aren't the Guinness pint glasses slightly rounded and they're not straight like this? They almost look like this half glass but stubbier, more stout so they're shorter.
Cary: Then goes thin at the bottom. You might be right.
Brendan: We'll have to look that up because that wasn't in the list of glasses. Pint glasses work great and I think a lot of it is due to the fact that they taper down. Those bubbles dissipate as they get toward the bottom of the glass. The glass is actually becoming more slender so the bubbles don't really get to dissipate as much because they're becoming more concentrated at the same time. These glasses at least in all of the experience and all the pours that we've done, these ones work pretty well.
Cary: Yes, you see the most waterfall for sure.
Brendan: Yes. What else do we got? We got the snifter, the cognac glass. This is the glass that the ladies' man Tim Meadows used with his courvoisier. It's like a big wide ball at the bottom and then it's got the tapered mouth so it tapers on the way up rather on the way down. That typically doesn't work well for the cascading effect in my opinion because the bubbles are having to fill more area as they go down.
Cary: Right, exactly. I think what's happening with that is you have a tighter opening up top so the bubbles are dropping maybe down the center of the cup and then fishbowls out at the bottom, you're not seeing the cascade actually happening below. It's going down the center of the glass, or I don't know if it's due to weight. Maybe it's not as heavy up top so it's not dispersing as well down below.
Brendan: You just don't see the same effect that you see on a glass that tapers toward the bottom. When it tapers toward the top, the bubbles are dispersing or becoming less at the bottom it seems so that glass is not really recommended. Throw a ice cube in there and throw some scotch or something. Next, we got the cylinder, basically, just a vertical glass like a Tom Collins glass.
Cary: Tall, skinny.
Brendan: Tall and skinny and those worked pretty well.
Cary: They work really well, yes. Same shape all the way through and [unintelligible 00:17:26].
Brendan: You're not getting any compression of the bubbles. You're not getting any expansion to where they have to fill more space so it's the same thing all the way down, solid waterfall. Then lastly your favorite glass, the tulip. Always the stemmed glass, all this on the bottom and then it tightens in the waist and then it opens up at the mouth.
Cary: Yes. It's almost identical to your – what did you call this one – your courvoisier glass. What is the term for that again?
Brendan: Well, there is the courvoisier glass, the snifter.
Cary: The snifter. It's almost like a snifter but the tulip just flares out a little bit at the top afterwards. But in the same regard, those two glasses almost pour identical like neither of them work well and since they concave in towards the — is concave even the right word or taper in towards the top, a lot of those bubbles are sticking to the walls of the glasses.
Brendan: After the waterfall happens and then all the bubbles are starting to work through their way back up.
Cary: Right. You have some clinginess to the outside of a glass versus having just like clear black coffee and then a clear line foam head up on the top of the coffee.
Brendan: Right, that's one more thing that we should probably add to what makes a good nitro coffee glass. Any glass that doesn't taper in towards the top because as it tapers in toward the top, that's where you get those bubbles getting caught on the sides. All those little micro bubbles, we can show plenty of pictures where you see just lines of bubbles around. It doesn't look as good as some of the other glasses where once it settles, there is black coffee and then there's a foam head. With the taper in you see black coffee at the very bottom, you see fuzziness with all the bubbles that are stuck at the sides.
Cary: It almost looks like you can see — I don't know if it's like soap residue or dishwasher rings where water had dried in the glass at times so it almost gives you like an unclean feeling in your glass versus if you're using a different glass.
Brendan: Yes. If you're using a glass that tapers in toward the top, you have to make sure you've got clean glassware. We've tried with the tulips at least when we've done pouring experiments. We've tried cleaning it with vinegar. We've tried scrubbing off.
Cary: Chemical agents. It just still seems like it will get better but still does not get that clear separation between foam and coffee at the end.
Brendan: What we've found or at least what we think we've found is that it's the shape of the glass that's catching the bubbles. All those nitro bubbles, they're so micro compared to carbon dioxide bubbles that you see in beer. If you were to pour a beer into a tulip glass like you did today, you don't see any of those bubbles get caught on the side. However, with the nitro coffee, since those bubbles are so fine, they catch into any imperfections. It becomes very, very obvious.
Cary: It's almost like they're stickier in a sense.
Brendan: What do you think? Should we pour a couple live on air here?
Cary: Yes. Let's pour a couple.
Brendan: Let's start with this Ballast Point glasses. This is a cylinder.
Cary: A cylinder or it could almost be like a Collins glass if it were to be taller.
Brendan: What's the typical size of a Tom Collins glass in ounces?
Cary: In a bar? Isn't it only like 10 or 12 ounces.
Brendan: I would guess less than that because you got 8 pints that are 12 to 16.
Cary: It might be an [unintelligible 00:20:54] .
Brendan: Yes, which would make it a very good glass for nitro coffee because you're not going to overload somebody on caffeine.
Cary: Right. You're not going to use a 16-ounce pint glass to serve. I don't know if we've talked about the ideal size for a nitro coffee, I would think somewhere in the 8 to 12 ounce range, it would be ideal.
Brendan: Pouring 8 pints or even further going up to 20 ounces is just way too much in nitro coffee.
Cary: Is this mic on over at the kegerator here.
Brendan: Yes. Let me turn this on real quick.
Cary: We got a mic, he's our third guest in studio here today is our kegerator. We're going to have a nitro coffee sound pour right now for you guys.
Brendan: All right. Go for it. It should be good. It sounds like a rocket. Love it.
Cary: It sounded awesome. All right, so pour is complete. Takes it swirls around a little while and now the cascade is starting to happen.
Brendan: Yes. Look at that. It's just entirely bubbles except for the bottom like 10% of it right now.
Cary: We have separation from the top. It's almost like an off white. The middle is the medium brown and the bottom is almost black right now. It's just so cool.
Brendan: Yes, and then over the course of the next – that's probably going to take – that's a small glass too. That's a four or five ounce glass.
Cary: I was going to say — and we're not achieving a ton of cascade though in this glass. I think volume and weight has something to do with this because we did pour that, what was that? 16 ounce pilsner glass the other day which is about the same diameter and we were getting huge cascade coming from that.
Brendan: Right, when we say cascade like we see a cascade in this but we were seeing it dance like those bubbles were moving. I think in the larger glasses, you get a lot more agitation or mixing of the coffee. This one looks like it just filled up quickly and now, it's just settling rather than cascading.
Cary: Yes. Excellent though.
Brendan: Yes. Take a sip of that thing. Now, it's all over. Let's try this one. It's like a — let's call that a miniature pint glass. It's five ounces. It's wide at top and it tapers toward the bottom. See if we get a little more cascade from this.
Cary: Yes for sure. Look at that. Yes, it's is like night and day compared to the other one.
Brendan: The glasses that taper in toward the bottom. I think the bubbles just all get funneled in so you see a lot more of the effect.
Cary: Right. Like we're saying like it seems it has a more weight at the top and it's getting pushed down and tightened up around the taper at the bottom and you're seeing it. It's still going really well right now.
Brendan: It looks like a waterfall. You see a ripple after ripple after ripple. It's almost like being in a helicopter above the beach watching waves coming. It's just is one after the other.
Cary: Nice analogy.
Brendan: Yes. You like that? That's why people listen to this show. For insights like that. That one is still going. It almost looks like it settles faster. I don't know if it speeds up by being wide on top and then more narrow at the bottom but in both of this. This other one's almost all the way settled out or still under glass.
Cary:  This is still cascading too like this is working really well.
Brendan: It just looks pretty.
Cary: There we go.
Brendan: That's a five ounce glass right there.
Cary: This is a typical glass that you would get at a brewery or a restaurant or tasting room you'd get like all this. Or this or if you bought a taster flight from Total Wine & More whatever this, that's what that glass is basically.
Brendan: Yes. It's pretty common glass for anybody who buys a taster flight. I think I've been given one of these every Christmas for the last five years. I actually brought this one from home. But it's a common glass. It's a good size if you're serving nitro coffee. There's nothing wrong with serving a smaller dose or smaller amount of nitro coffee especially if you're one of the people that makes higher concentrated nitro coffee.
Cary: Or making multiple kinds. Like if you're making different flavored nitro coffees and someone would be inclined to order one and then want to order another one. Nothing wrong with doing that.
Brendan: Since we're speaking of glassware today, let's talk about for just a minute the sizes that people can serve in. We said that obviously, a pint glass 16 ounces or imperial pints 20 ounces is way too much when you're talking about coffee. I think the only way that would work is if you're mixing it with something or obviously diluting it quite a bit but that takes the fun out of the nitro pour. I think a Tom Collins glass would work well. I don't know if they make smaller pint glasses so this one is a 16 ounce pint glass.
Cary: Right. A standard pint.
Brendan: I don't know if you can get a shaker pint in eight ounces or I'm sure you can.
Cary: Look at most coffee shops, a lot of people I think in coffee shops are going to have plastic cups to go. Those cups are essentially like a pint glass shape. I'll just throw Starbucks out there of course because everyone knows what their to go clear plastic cups look like. They're probably– what's the small size they do is maybe eight or 10 ounces.
Brendan: I don't even know. Isn't it called Grande? which doesn't make sense to me.
Cary: I don't get it. But that's the ideal shape. I think even if you were serving a to go plastic cup like that, that would be a good shape. Just don't put a lid on it and then a straw through it. You serve it open.
Brendan: Yes, you want to be sipping off the top. You want to taste that foam and that creme that's there every sip. It's basically like a solo cup if you could find the right size, solo cup especially if you're serving at Farmer's Markets or events. Good cup but make sure it's clear. Otherwise, you're losing that effect. That's part of the draw to nitro coffee is seeing that cascade. Best glass for nitro coffee.
Cary: Yes. Definitely pint or a thin style [unintelligible 00:27:44] glass I would say.
Brendan: Anything that tapers down toward the bottom.
Cary: Tapers or I think cylindrical in a sense.
Brendan: You don't want to taper toward the top. I think that's safe to say.
Cary: We have another tulip glass, we could pour one and just see –
Brendan: Yes, I think we got one up there. Knowing you're going to pour that, I'll turn that mic back on. Do it.
Cary: This is a much larger glass. What is this? 16 ounces.
Brendan: It's probably 16 ounces.
Cary: It looks great going in.
Brendan: You still do get some of that cascade effect.
Cary: Yes, we're getting the cascade effect only in the bottom. Let's say quarter of this thing where it –
Brendan: It goes back to the stem.
Cary: It's like the widest point which is probably a quarter from the bottom and then now, it's already settled into coffee so the cascading effect is done.
Brendan: You see a lot more micro bubbles going up to the top where it tapers.
Cary: Where it tapers, it's actually floating up instead of down which is almost the exact opposite of what you want when you're serving nitro coffee and you can already see it. A lot of this small bubbles that are going up are sticking to the wall and then going up so it's creating this bubble shelf lines in the glass as it tapers.
Brendan: Looking at it from here, it's cool because the bottom is very dark then I've got like a dark brown then I've got a lighter brown and then the top is almost white. It's like a Swiss mocha color that right on top.
Cary: Right. It's got four rings to it right now.
Brendan: It's like neopolitan. It looks cool but you do lose that cascade effect.
Cary: You still get a nice frothy head on top but you don't get the cascade effect, and I think that's half of nitro coffee right there.
Brendan: I think you get a little bit more head just because the glass tapers, it bends out up top.
Cary: Calms everything up.
Brendan: Yes, but take this for a second. You know what I just thought of is cold brew that's in a bottle over behind me.
Cary: Yes, cold brew checking. Is that four months old? three?
Brendan :May 21st
Cary: May 21, almost five months old four and a half?
Brendan: Still clean. I think we're going to have to try this on the one year anniversary.
Cary: I was going to say the one year anniversary everybody tune in, Brendan is going to chug this thing.
Brendan: And see if anything good happens to me. We brewed this on May 20th bottled it on May 21st. We emptied a Kirkland water bottle and just filled it up with our cold brew. It's been sitting out here at room temperature ever since. We left about I probably filled it two thirds of the way so one third of its head space. Just wanted to see if we could get a science experiment. Get anything growing in here but as of right now nothing interesting has happened. Guess we'll have to wait and see. I like seeing that knowing that we brew cold brew for the office here all the time and drink it all day long.
Cary: I'm trying to take a picture of this tulip glass that we just poured in. Definitely see like the bubbles sticking to the edges and then the lines on the side here. We'll upload these to the website for everyone to see.
Brendan: All right. I think that about does it for today. All of you who were at Coffee First last weekend great meeting you. Nice talking with some of the clients. Nice meeting a lot of new people there.  Hopefully our input for the cold brew competition isn't shunned and look down upon. All of you who are going to Great American Beer Festival this weekend I hate you all.
[music]
Brendan: All right that's going to do it for today. Just a reminder we still get a lot of questions via email about the best pressures from nitro coffee. How to do this? How to do that? We've released the definitive guide to draft coffee. If you're interested it can be downloaded by going to dripsanddraughts.com/definitiveguide. If you've got a question you think is groundbreaking and you want to know the answer to, we've got an 888 number that you can call. We'll play the question on air and we'll answer it on air. Call us at 888-620-2739 extension 6. If you're looking for show notes for this episode you can find those by going to dripsanddraughs.com/27. That's going to do it for today. Thanks to Cary for joining me in studio. I'm Brendan Hansen and you've been listening to "The Drips & Draughts Podcast". We'll see you again next Friday.
[music]
Are you looking to learn more about cold brew and draft coffee? Join us in the Cold Brew Avenue Private Community to connect with and learn from other cold brew and draft coffee professionals. Plus get access to exclusive content such as e-books, how-to videos, buyers guides and more. You can learn more and apply for membership at forum.coldbrewavenue.com. Thanks to Keg Outlet for sponsoring this podcast. Thank you to everyone who has contributed questions and to you for tuning in. Thank you for listening. That's it for this week but looking forward to seeing you again for the next episode of Drips & Draughts.
[music]
Mentioned in this Show
Firestone Walker / Easy Jack / Pale 31
Coffee Fest / Americas Best Cold Brew Competition
Tim Meadows / The Ladies Man