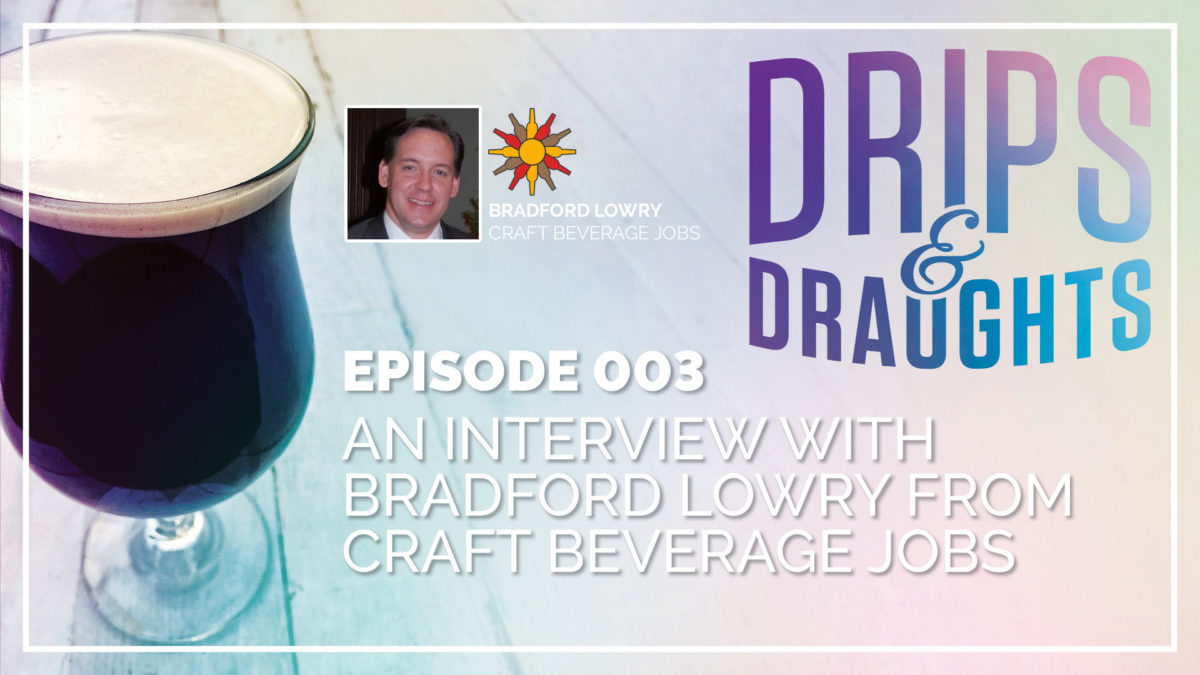 In episode 3 of Drips & Draughts, we interview Bradford Lowry of CraftBeverageJobs.com and discuss many of the jobs available in the craft coffee industry.
Bradford joins us to share a brief overview of the many different positions available in the coffee market as well as some rough salary figures that potential job seekers can look for. We also discuss the e-book that Bradford authored – Coffee Jobs: A Complete Guide to a Career in Coffee.
Whether you're thinking about a career change, looking for a job in the coffee industry, or maybe you're a coffee company seeking quality individuals this episode can
Highlights & Takeaways
CraftBeverageJobs.com is a great resource for both potential job seekers and for those looking for employees.
The coffee industry offers a wealth of jobs, many of which don't necessarily require direct experience.
---
Episode 3 Transcript
Brendan Hanson: Hey there and welcome to the third episode of the Drips and Drafts podcast. I'm your host, Brendan Hanson. This is an exciting day for us because we've got our first guest on the show. Today I'll be joined by Bradford Lowry from CraftBeverageJobs.com and we'll be discussing the various jobs and positions that are available in the coffee industry. Bradford and his website Craft Beverage Jobs are great resources for both potential job seekers and for companies looking for solid talent. Being the first interview that we've done, the audio quality isn't the best so we apologize. So without further adieu, let's get into interview with Bradford Lowry from Craft Beverage Jobs.
Today I'm joined by Bradford Lowry from Craft Beverage Jobs. Bradford and I go back a little ways, he interviewed us a while back about nitro coffee and I thought he'd be a great first guest to have on the show so Bradford you wouldn't mind, tell us a little bit about yourself.
Bradford Lowry: Hey, I appreciate the invitation. I think this is really exciting what you guys are doing with podcast idea and the websites I'm glad to be a part of it. I am one of the founding I guess founding members or partners with Craft Beverage Jobs. It was founded by a friend Cindy Molchany in 2014 and we've been building this website and really getting quite an audience within Craft Beverage, Craft Beverage covers a lot different artisan and beverages.
Brendan: Yeah, you guys certainly have.
Bradford: Yeah and so since the founding in 2014, we've quite a bit and we are jobs board but as we go into a little bit later, were much more than just a job board. And we really try and focus our attention on finding people meaningful work within the industry.
Brendan: Right on, well yeah I saw you guys pop up a couple times in my Google Plus feed before you and I had even talked and you guys put out some great content and I think that's one of the reasons we really wanted to have you guys on the show with us.
Bradford: Cindy's background and mine as well, not as much as her is in content marketing and digital marketing and so content really is a focus point for us and that's really why we've spent so much time on social media and Google Plus for one. And so we've really found a good audience there and across really all of our social networks. So it's been an experiment like anything is when you start it, but it's been very rewarding for us so just a few years now.
Brendan: Yeah, absolutely. You guys have put some great articles together, great posts and the reason you're on the show today is to talk about the — you know your book, your e-book that you guys have put together the Coffee Jobs e-book. But to divert a little bit you guys have also put together wine Jobs as well as Beer Jobs, a couple amazing e-books that I think anybody would probably enjoy whether they're looking for a job or not.
Bradford: Right, right. Well Craft Beverage Jobs is like I said earlier is both a jobs board and a resource for job seekers who need help really focusing on a career. So we give Career coaching we also provide free tools for writing resumes, cover letters. We're really passionate not only about connecting people with jobs, making sure they're prepared for the job interview process. So you know at the end of the day the goal is to convince the employer that they're the best candidate to hire and so we've developed quite a few of these e-books and they're free to our users. In fact one the hottest ones we have right now is our free course called Apply and Get Noticed. And it's been very helpful for a lot of people. You can find that almost on every page of the Craft Beverage Job's website, right at the top of the page. And so that a long with the other e-books that we have, you can not only get a good grasp of the industry but to help get started in the process of applying for a job industry.
Brendan: Right on, so each of these e-books would you say is geared toward people who are maybe thinking about career change, somebody who is just getting out of college or anybody really?
Bradford: Really both, yeah really both because they're gear toward someone who perhaps already in a career but is looking for a career change and it helps them to go through the each of the industries and find where their crossover is for them, whatever their expertise is. But it also great for the beginner because it gives helpful resources of where you can get started in your career. Like often in these e-books, we will provide the entry level positions along with more advanced positions. So someone who wants to establish himself in entry level job, we tell them how they can do that, what they can look for to get that process started.
Brendan: Great, great. Well what do you say we dive into the coffee e-book a little bit and talk about that. You know I think in future episodes we'll probably get into beer and maybe even wine but beer definitely so might have talk about that in a future episode.
Bradford: Sure, when we do that, we'll definitely have Cindy on, that's her will power, she's got a long background , yeah.
Brendan: Perfect, well why don't you tell us a little bit about the Coffee Jobs book, The Complete Guide to a Career in Coffee and then we can kind of discuss that a little bit.
Bradford: Well, this was designed to be a guide for anyone who wants to turn their passion for coffee into a career. The coffee industries use experience or real renaissance today. And so, in fact I was looking up some figures and ready drink coffee brings it by the $80 billion onto the global economy today. So who we realized is that specialty coffee as an industry, is no longer being viewed as kind of a part time or a in between job source. But there are really great career opportunities within the coffee industry. So the goal of the book was to outline these career opportunities and to give tips on how you can get started but also to lists the duties of each of these job descriptions within the book. And so I tried to break it down in to four categories. The first being jobs in production, and so we go through the basics of the job description for a production assistant which sometimes is called a roasting assistant and really — anyone who would report to a production manager within the industry. Then we go into, you know what it means to be a production manager, the general possibilities of a production manager. What they can anticipate you know, if they want to go into that kind of field. Perhaps you're already a manager in some other industry and you want to know if you're qualifications will crossover into the coffee industry. So this is a great source to find out if that can happen and for the most part I believe it does.
Brendan: Alright, so do a lot of these jobs — will these — can these jobs be found in like a small mom and pop coffee shop or are you talking like small to mid-size roasters. Obviously when people think coffee, Starbucks is one of the names goes hand in hand but are these pretty widely found jobs across…
Bradford: For production, yes and no. A mom and pop for the most part will hire a production assistant. A mom and pops typically the owner operator is the roaster or is the one managing the coffee shop and so they will tend to hire an assistant. So that's where that could become a really good benefit for a persons resume, to have that on their resume, they already have that experience as a production assistant. And of course the larger the business, the larger the roaster, they will be more inclined to have a specific role for a production manage. And so you're going to find a quite variety there. So it will fit both the Starbucks size, really the corporate coffee and also the smaller community coffee.
Brendan: Okay, that makes sense.
Bradford: Yeah, now in production you're not only just talking about a production manager but you talking about a coffee roaster. We go into some detail about how you can get started as a coffee roaster, how you can become a professional coffee roaster. But there's other production jobs that perhaps people don't think about such as a coffee taster, or a "cupper" as it's called. And that can be quite a great job within the industry. Can you imagine coming in work all day and you get paid to drink coffee.
Brendan: I was going to say that's got to be a coveted job, that's probably the same in the beer industry.
Bradford: Yeah, yeah. And if you find that section within the book, I go into one of the programs that get you started there. It's called the Q Grader program. And the Q Grader program is a program through the coffee quality institute and you can get started vacation through them in you complete the program. It's about a six day course. It's filled with exercises and it has an exam that you have to complete. But the goal of that is to get that certification which give you credibility really as a coffee taster. And so all the links you would need for that are within the book. And so from there —
Brendan: Alright. So it's like — that would be like a wine sommelier or a cicerone?
Bradford: Yes.
Brendan: Okay.
Bradford: Exactly, exactly, yes. And perhaps another thing in production that a lot of people don't think about is mechanical technicians. As coffee continues to grow, there's going to be a greater need for someone to work on the equipment that's involved in a coffee shop/coffee house or a roasterie. And so there's a great need today, we see a lot of these jobs come through, graph papers jobs calling for job listings for mechanical techs. And so that would be another, a really good crossover job for anyone who's already a mechanical tech in another field, could probably find a great career within the coffee industry.
Brendan: Sure, got to keep the equipment running.
Bradford: Exactly. And a lot of people either don't have time to do that or they would rather have that as a resource within their employees. Because often, if you're running this type of business, you can't afford to have any of these equipment go down. And it cost you money and so they have someone on staff who can immediately remedy these problems. It's a pretty good job.
Brendan: Absolutely, yes.
Bradford: Now we go from there, we go into the sales and marketing side of it. Perhaps one of the most prestigious jobs is a coffee buyer. And so I go through the steps you can take to become a coffee buyer. I gave some links of where you can get started, what the responsibilities are for a coffee buyer. It may not be as glamorous as some people think it is. There's a lot of more work on the backend of a coffee buyer rather than just travel. And so someone who's thinking of that as a career may find that beneficial.
And of course sales representatives, marketing, all of that is always involved within any type of industry. I also go into the hospitality side, dealing with baristas, coffee store managers, assistant store managers, the certification that baristas can get today. Baristas for many years have been viewed really as a part-time or in-between job. But a professional barista today, that's a great fulltime career for a lot of people. And I give quite a few tips and links where you can get started for that.
Brendan: Alright, yes that's amazing seeing some of the barista art that pops up on social media. It's pretty incredible what they do.
Bradford: Yes, and it really is a key part in the artisan side of the coffee industry, knowing how to correctly prepare coffee for a customer. It's been looked at today as very valuable part, not just the face of the company, not just the interaction with the customer to make sure they have a good experience. But to provide for them a very high quality beverage.
Brendan: Exactly. Alright. So going beyond the barista, obviously a couple of more positions in hospitality?
Bradford: Yes. We go through the duties that a coffee store manager could expect to have, also assistant store manager. Of course any management position probably have a great crossover into the coffee industry. But we go through some of the steps that need to be taken or what to expect really, the skills and responsibilities that are going to be required for that kind of position. And some of those positions depending upon the size of the business, it can pay very well. And so you can be looking at an opportunity with a corporate coffee market like a Starbucks.
Or you could be looking more of the independent side. And so any of those things can lead into sales, district manager positions. So many different directions that can go.
Brendan: Sure, coffee is such a huge market. It's —
Bradford: It is, it is and you could take any idea you have or experience you have in any kind of beverage industry can go directly over into the coffee industry.
Brendan: Overlap a bit, huh?
Bradford: Exactly.
Brendan: Alright, alright. So I know we touched on this a little bit at the beginning but who would you say this book is for in general if you just had to generalize it?
Bradford: Anyone who has a passion for the craft of coffee, I think will appreciate this book. And really is interested in turning that passion into a career. There really are so many career paths available in the industry today as we've talked about already from hospitality, mechanical techs, sales and marketing and on and on. So that if you're already in one of these fields, there's potential that you can crossover into coffee.
Brendan: Alright. So if somebody just happens to love coffee, that's a definite possibility that they'd be able to find a job where they've got some experience that they could relate?
Bradford: Yes. And I tried to gear the book toward really the beginner, someone who's perhaps interested in it but needs more information. And so they can come to the book and they can find out just what is going to be expected within each part of the jobs of this industry.
Brendan: Gotcha. Alright. So who is this book not for? Who is this book just not going to fit with?
Bradford: Right. Well, I think first and foremost, if you don't like coffee, you probably are not going to enjoy the book. In sense it's really all about coffee. And if you're not looking for a career change. Now, I've had a lot of people who've downloaded the book just because they enjoy reading about coffee. They're not really interested in working for coffee, they're just interested in everything about coffee. But yes, the book is really designed to be an assistance for those considering a career in coffee, kind of a beginners guide to help you focus on what part of the industry that you're interested in, and what that that industry. What that specific part of the industry has to offer.
Brendan: That makes sense. Probably some people out there are wondering what typical salaries for some of these jobs that you mentioned are. I'm assuming most of these can be found in the book, but if you'd like to go over a couple.
Bradford: Sure. One of the things we thought was important is to give some help or resources where people could find what the average salary would be. And so I've added in there some links to payscale.com, insidejobs.com. And these are websites that give up to date evaluations of salaries for a variety of industries. And you can find several coffee jobs in there. A coffee roaster can expect to start at with an average salary of about 35,000 a year, a coffee taster, around 30 to 35,000. The higher pay scale is going to be with the coffee buyer. Their salary depends really on the size of the company they're working for. But I found ranges from 30,000 all the way up to $100,000 a year, yes for the coffee buyer.
And of course when you get into the barista side, the hospitality side, you may be looking at more of an hourly rate. And sometimes they have part-time positions with the potential of fulltime employment. So within just a matter of months, you could go from a part-time to a very well-paying fulltime job in hospitality.
Brendan: Interesting. So let's talk about the coffee buyer again for a second. When you mentioned that originally that piqued some interest for me. Obviously travel is involved there and probably to some pretty exotic places, knowing where coffee comes from. Let's say you're working for a larger roasting company or something, they're probably sending their buyers all over the world, I'd imagine, right?
Bradford: Right, right. So the coffee buyer, their purpose is to connect farmers to customers around the world. So the coffee buyer really is the link from the production side of coffee to the consumption side. So they really become kind of the gatekeepers for the quality of the coffee that that company is going to be selling. And so their job is to determine what coffee that roasting company is going to purchase. And so they need to be skilled on being able to know quality coffee, of course pricing of the coffee, they will have to manage the relationship and the transactions between the grower and the roaster.
There is a lot of travel involved, visiting coffee producers all around the world depending on where that roaster wants to focus their business. But there also is a great deal of time spent in the office, sampling coffees, handling paperwork, coordinating the sales between the source and the company you're working for.
Brendan: So it's not all glitz and glam and the jet setter lifestyle?
Bradford: No, no, no. It's not all glitz and glamour. In fact I have a statistic here in the book. Considering a coffee buyer for Starbucks usually spends about 18 weeks out of the year visiting coffee growers and suppliers, right? So you can get from that that the other part of that year, is going to be spent in the office.
Brendan: Geez, pretty hefty chunk of time involved there.
Bradford: Right, and of course the amount of time spent in the field will the depend on the amount of coffee that the roaster needs to maintain from product-
Brendan: Sure. That's a really cool area I'm interested in just because that I've seen some small coffee companies do an awesome job portraying where they're getting their beans, how they go about it. It's cool to learn the story behind it. That's just another-
Bradford: For a job like that you're going to need — it's helpful if you're bilingual, so if you know Spanish, if you know Portuguese, it's going to be helpful. If you have some cupping experience, roasting experience, of course strong communications skills. Any type of business background, because you are going to have to manage inventory, you're going to have to manage shipping, processing. All of those things are going to go into the coffee buyer's portfolio of experience. And there are a lot of programs available to get started specifically if you're interested in coffee buyer the SCAA has what they call a Coffee Buyer Pathway. And the Pathway takes the student through a series of online courses and helps them learn how to deal with the supply chain and all of the details that a coffee buyer has to deal with. And so we give links of where you can get started for those course requirements.
Brendan: Alright, and we'll put all these links, well maybe not all of them, but we'll put links definitely to the eBook in our show notes. Links to your website and any other links you think might be pertinent to this episode.
Bradford: Sure, right.
Brendan: Alright. Lastly anything else you'd like to add?
Bradford: If you go to CraftBeverageJobs.com, you can go to our blog, that'd probably the best place to find the blog post for Coffee Jobs Complete Guide to a Career in Coffee. If you'd like to download it as a free eBook, on the right hand side of our blog page, under our free eBook listings, you can find all of our free eBooks and they're at the bottom there'll be the specific coffee book. And so it's an easy download. Like I said, a lot of great links and opportunities in there and really to give you a sense of the industry if you're new to it. And also if you're looking at this as a career, it's helpful to find out what in my experience will transfer over to the coffee industry. And I think you'll be able to find that in this book.
Brendan: Cool. Yea, I think this book will be very helpful to get, and we obviously work with a lot of coffee shops through Keg Outlet, established coffee shops, but we get questions at least a couple of times a week from people who are interested in starting a mobile business or just serving at farmer's markets. I think this book could be very, very helpful to a lot of our audience.
Bradford: Sure. And for anyone who's really interested in trying to find a job, we have on our website. If they go up to the Job Seekers tab and scroll over they can find our Coffee Jobs page where we have coffee jobs being listed every day. And we've got a quite a few from Mom and Pop independents to very large corporate chains who are listing jobs. You can kind of get an understanding of what they're looking for. So I would encourage anyone to click on one of the jobs, see what they're asking for, see what the qualifications are and see if it's something that interests you. And if you want to go a step forward download our Apply and Get Noticed free course, it comes right to your email. It really is a good help to get focused on how to apply for a job.
Brendan: Cool, good stuff. Well, unless you want to add anything else I think we've got enough here.
Bradford: Well, just for anyone who is really interested in the coffee industry, hope they'll use our resources. And we really are doing everything we can, we're passionate about finding people work within the industry. And so anybody who wants to reach out to us, we're more than happy to help them with their resumes, with their cover letters, anything that we can do to get them into an advantage to get a job.
Brendan: Alright, and is there an email address, or anything, that people can reach out to either you or Craft Beverage Jobs at, or?
Bradford: Sure, you can reach out directly to me at Bradford@craftbeveragejobs.com, or at info@craftbeveragejobs.com, and both those emails will come right to us.
Brendan: Cool. Alright Bradford, thank you so much for joining us. You're the official first interviewee on the Drips & Draughts podcast.
Bradford: I appreciate it; it's been my pleasure to be with you.
Brendan: Well thank you for joining us on Episode 3 of the Drips & Draughts podcast. To learn more on anything that we discussed on today's podcast you can find the show notes for this episode at dripsanddraughts.com/3. If you enjoyed this episode hop on over to iTunes and leave us a review. And as always if you have any questions you can email us at questions@coldbrewavenue.com. Or find us on Twitter at @ColdBrewAvenue.