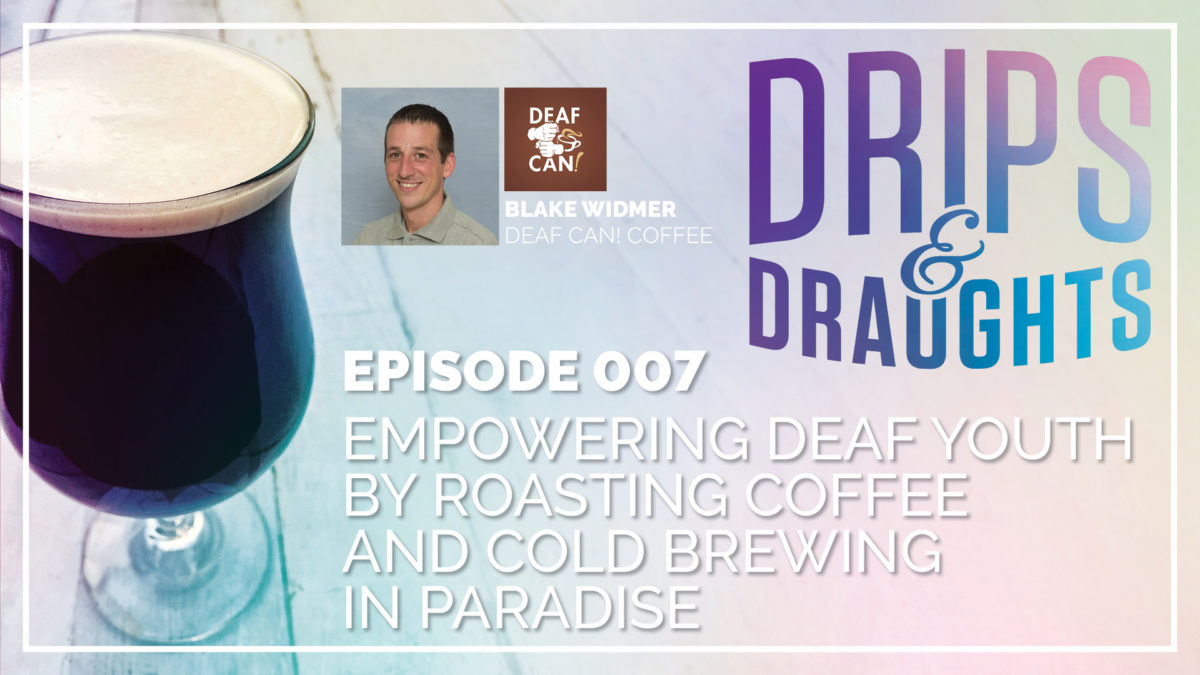 In episode 7, we speak with Blake Widmer from Deaf Can! Coffee in Jamaica. Blake is part of a non-profit in Jamaica that empowers deaf youth by teaching them skills and giving them a sense of pride and ownership in running and operating a coffee business. Blake talks about changing the stigma surrounding the deaf population in Jamaican culture as well as trying to change the mindset about coffee (or "tea" as it is called on the island. We discuss the positivity created for the youth within the program and how draft coffee and nitro coffee has helped to open people's eyes to what good coffee tastes like.
Highlights & Takeaways
Roasting coffee in Jamaica
Empowering deaf youth through teaching skills
---
Episode 7 Transcript
Brendan: Hey there and welcome back to the Drips & Draughts Podcast. As always I am Brendan Hanson and today I am going to be joined by Blake Widmer from Deaf Can! Coffee. Blake joins us from the island of Jamaica where at the time of this recording it's currently 86 degrees and sunny. Now I live in Southern California but the thought of Jamaica makes me want to take a vacation.
So, when we started this Podcast we really had two goals in mind. One, we wanted to introduce draught beverage and draught beverage equipment to new markets and one of those markets is obviously coffee. We have talked a lot about coffee here. And two, we wanted to highlight some of our customers and some of our clients and the things that they are doing and Blake and Deaf Can! Coffee–well let me just say Blake is doing something awesome down on the island of Jamaica. He is introducing craft coffee in both hot and draught coffee forms. He has introduced nitro coffee down there as well. But more importantly he is empowering deaf youth and helping to reverse the social stigma that can sometimes surround deaf people and Jamaican society. Blake can do a much better job explaining his company Deaf Can! Coffee than I could ever do. So, let's get into the interview with Blake Widmer from Deaf Can! Coffee. For links and show notes from this episode visit dripsandraughts.com/7.
Alright. Welcome back to the Drips & Draughts Podcast. Today I am joined by Blake Widmer from Deaf Can coffee. Blake is working at a nonprofit in Kingston, Jamaica and works with deaf kids primarily right Blake?
Blake Widmer: Yes deaf youth and also as we have grown we have started having young adults that are wanting to get involved too. So, our oldest right now is 28 years old.
Brendan: Okay. So, give us a little background on yourself. How did you get involved in this? What drew you to this?
Blake Widmer: Yeah. So, I mean my roots are completely different in the context in which I live now. I did not have any relationships with deaf people my family growing up and had no connection to Jamaica really. When I was in high school I got the opportunity to join a trip for one week during spring break and I came down here as a 17 year old kid. Met the first deaf person in my life, learned a little bit of sign language, was enamored by Jamaican culture, by the scenery, by the people and I kept coming back and I ended up spending two summers during college as an intern with a school down here and then worked for a couple of years out of college and then got the opportunity to come down full time and I have been here ever since working primarily in a kindergarten through high school school for the deaf. And as I have worked with the young men in the school trying to mentor them and work with them and empower them to live their own independent lives one thing that happened was coffee. So, it has been kind of a new thing for me as well and learning along the way but excited about what the potential is.
Brendan: Right on. We'll get into how coffee kind of played a part in that. So, you grew up where? In the Midwest?
Blake Widmer: Yes. I grew up in West Lafayette, Indiana. So, about an hour North of Indianapolis or two hours Southeast of Chicago.
Brendan: So, quite a culture change going to down into Jamaica I assume.
Blake Widmer: Yes. Absolutely.
Brendan: And then did you go to college locally in the Midwest as well?
Blake Widmer: I did. I went to Purdue. I'm a proud Boiler. I got on some black and gold as we speak.
Brendan: [laughs] Well, that's cool. So, yeah you have been down–actually I would like to be down in Jamaica right now. I'd like to visit one place I've never been, it's on the bucket list for sure.
Blake Widmer: And we love to show you Deaf Can coffee when you're here Brendan.
Brendan: Awesome. So, tell us a little bit more about Deaf Can! Coffee and how that got started and just kind of what you do with Deaf Can! Coffee?
Blake Widmer: Sure. So, in working with a group of boys ages primarily like 15 to 18 when they get ready, graduate and go into the real world after high school they struggle and a lot of that has to do with the society and employers won't even give them a chance, but a lot of it has to do with their self- lower self-confidence. They've grown up in a very negative environment that puts stigmas and labels on them even to the point where a deaf person walking out on the street here is often referred to as a dummy and it's not necessarily using the words dumb like we would think of it as a person who is not intellectual they would say "Oh, no I mean they can't talk" like a dumb person is a person who can't talk but that filters into the thoughts of everybody and how they are treated and they are really treated as second class people.
So, our kids don't have confidence and so my wife who's a deaf Jamaican has a family friend of hers that she grew up around who is a deaf coffee farmer. He has got his own little farm where he grows and roasts his own coffee. Everything's literally straight out of the 19th century – 1800s. I mean everything he does is manual. He grows his coffees are no equipment he uses. Everything is hand done.
Brendan: Wow.
Blake Widmer: When he is hulling the coffee, he is using an old mortar and pestle which is like a tree trunk hollowed out with a big long wood stick that he pounds inside to get the shell off the coffee and then he dries it out in the sun in an old tin sheet. He hand roasts it over an open fire in his old cast iron pot and a wood stick.
Brendan: Oh my gosh.
Blake Widmer: And it's just awesome.
Brendan: That's amazing. Yes. That would be cool to see some pictures of if you have any we could put them at the show notes.
Blake Widmer: Absolutely. I can get you some of that. So, I had gone there to visit Clark's farm several times with just my wife and any of the time I would have family from overseas that would come visit, I would say you have to go see Clark's farm. I just-I love everything about it. I knew nothing about coffee at that time but I knew that Clark loved coffee.
And so, we had this idea a year ago that if the biggest issue with our kids is self-confidence, what better way to do it than show them a deaf person who's doing something so that they can look at them and say "Hey, if they can do it, I can do it too" and so we never really had anticipation doing it with coffee. It was just a person that we knew that was living out their own small business. So, we took our kids on a field trip there and our boys got so excited about coffee and so excited about what Clark was doing they said "We want to roast too" and so we got this little Gene Café Home Roaster, it roasts like a half pound of coffee at a time. We got that and started playing around with it and once the boys played around with the roasting a little bit they said "Well, we want to taste it". So, we had a little Mr. Coffee machine that honestly we never used a friend had given it to us, it had been collecting dust. We cleaned it up and the boys started playing around with it and then various people come to the school quite often to visit or whatever and they would–we noticed that they were starting to go solicit people to come taste their coffee because they were really proud of what they were doing and as they started to do now we said "wait maybe we can do a lot more than just roasting coffee, maybe the kids can learn how to roast and then grind and brew a good cup of coffee" and so we started to doing some online research.
We had a group from the University of Northern Iowa that was coming down over their spring break. And they come every year and they heard about this little project we were doing with roasting coffee and saidand how can we help? We said "Well, we have this Mr. Coffee machine but it doesn't make good coffee. What we really need is a good grinder and a good espresso machine". And so we invested in a Rancilio Silvia Espresso Machine and a Baratza Grinder which are good quality grinders but home use type of machines. And once we got that here the boys just–I mean all their enthusiasm, energy they started looking at YouTube videos on how to do latte art, started learning how to do that. We actually had a coffee shop from the US, came down and did hands on training and so after they got a little bit of hands on training from trained Baristas then it just exploded kind of. Their confidence grew.
Brendan: I bet you probably given these guys a huge sense of pride in what they are doing and what they are building.
Blake Widmer: Right. And so we just started seeing them take pride in what they are doing and we just have every step of the way last year just tried to keep up with their pace and so cold brew coffee has come in because Jamaica is already a hot place where you don't have the typical coffee consumer that we would have in U.S. where people might go at 2 o'clock in the afternoon and get a latte or something.
Brendan: Right.
Blake Widmer: And so, we started experimenting with that just with the Toddy system. Using the Toddy system to cold brew coffee and then we had a friend that introduced the idea of nitro coffee on tap and so we have started exploring that. So, it has been only a year in fact April 15th was when we did the Barista skills training last year [2015]. So, we are hardly even a year old but it has been a lot of fun.
Brendan: Right on. So, tell me a little bit more about Deaf Can! as a company or is it nonprofit? Do you guys run a coffee shop? Are you guys growing your own beans? Are you sourcing the beans and then bringing the kids in a teaching them skills at that point?
Blake Widmer: Yeah, that's a great question. So, when we started with the–when the group from Iowa brought down in their luggage that Rancilio Silvia and Baratza grinder we didn't even have a name for it. There was no name for what the boys were doing. But that week we decided what we really wanted us to be about is helping our youth believe in their abilities, that they can do it. And also we wanted to share with Jamaica that deaf can, and so we wanted to break down some of the barriers, so we decided on Deaf Can Coffee. Again, it was just espresso basically. We learned how to do a good latte and make a good cup of coffee. With that then we opened up a very small coffee shop on the campus. We got a blender then, we started doing fraps. They started doing like fruit smoothies and milkshakes. And then just a couple of weeks ago we opened up a new training center. As this has grown locally we've gotten a lot of press, and a lot of attention. And Digi Cell, which is essentially Verizon, or AT&T, of the Caribbean, their dominant telecommunications giant, they came in and gave us a pretty large grant to build a training center that's going to incorporate food preparation, cooking and baking as well.
Brendan: Oh, that's awesome. Congrats.
Blake Widmer: One thing that we never planned on though is that this could be a viable business. And so we started off just with this small coffee shop on campus to give the kids exposure of running their own small business, as an entrepreneurial experience. But then we had groups that would come and say, "Hey, can you come to my event and serve coffee?" And we said, "Sure." And we did that one time, and then somebody else heard that we've done it, so. We were just at Digi Cell headquarters yesterday. The guys in two hours in the morning rushed to work. They served 200 drinks in less than two hours-
Brendan: Oh my gosh…
Blake Widmer: – and made over $500 in two hours of work. That's two months' salary for a lot of people, and they made that in two hours. Again, not all of its profit, you got the costs and everything associated with it, but we're realizing this is a very viable business locally and so we're starting to go mobile more to events. We're not wanting to attract a ton of people to the school, because we have kids there, and there are safety concerns about letting strangers into a school setting, and we have to be careful about that in liability issues. But we do have people schedule visits, and we have groups that will come and use our facility, but we have ongoing discussion right now with someone that has a new office building opening in July or August, and they have plans to have a café in their first floor, but they don't have anybody contracted yet to do the coffee service. So we're in conversation with them, we might actually have a public location in a few months.
Brendan: That's incredible. So this has really just grown like you probably could have never imagined.
Blake Widmer: Never imagined Brendan-
Brendan: From a year ago.
Blake Widmer: Yes, no idea. But I think what's been successful for us is that we've started off with a clear conviction, and clear vision, of, "We want our deaf youth to believe in their abilities. And we want Jamaican society to start recognizing those abilities." And because that is still at the core of everything that we do, I think it guides us in our decision making.
Brendan: Yeah, absolutely. And with coffee, I come from a beer background. Now I've gotten pretty deep into coffee, but anything hobby based. I suppose you could say that this is hobby based, but there's so much more in it, there's a passion, and it's cool that you're bringing kids into that, and showing them that, and developing that.
Blake Widmer: Yes, and Jamaica as a whole, is very well known for Jamaican Blue Mountain coffee. It's world famous, it's one of the highest priced coffees on the market that you can get.
Brendan: Right, let's talk about that for a sec.
Blake Widmer: Yes, but Jamaicans don't get it. Jamaicans don't know what good coffee is. Most Jamaicans, if they drink coffee they call it tee\a. And it's an instant form of coffee that they put in the boiling water and stir it up. Very few Jamaicans actually drink fresh roasted Jamaican coffee. A lot of its-
Brendan: So it's all exported.
Blake Widmer: Yes, it's all exported, and all the values added on the other end of the supply chain overseas, especially in the Japanese market. Jamaican Blue Mountain Coffee has this like cult following.
Brendan: Talk about that for a minute. What makes it so in demand, so pricey, so popular?
Blake Widmer: Yes, again I'm learning a lot. From what I understand the growing conditions in the Blue Mountains, it's at the right elevation, with the right climate where it's a very long growing season. So the coffee bean matures very slowly, and because of that there is a richness and a nuance within the bean that is very unique. Also, I've been told, there's aspects of the soil that's there. It's supposed to be traditionally like a volcanic island, of some sort, so there's something about the acidity of the soil that affects too. But again, I am not an expert so I will be careful about how much I speak on that.
Brendan: And plus, Jamaica's obviously a small island, so land, it's obviously a scarce product. I suppose it's similar to Kona coffee, Hawaiian Kona coffee.
Blake Widmer: Yes, because it has to be grown within this region that is the Blue Mountains. And another thing that has added value to it is that the Japanese for decades have, there's just this belief within Japanese culture that Jamaican coffee is the best coffee in the world, and they are willing to spend the money on it. And Starbucks actually just has an agreement recently with one of the major Blue Mountain coffee growers and roasters, to supply directly to Starbucks to have Jamaican Blue Mountain coffee only Starbucks coffee shops. That's my understanding anyways. I've not been there, but from what I understand, you can actually go down the street and find a Jamaican Blue Mountain coffee Starbucks in Tokyo, and get a cup of Jamaican Blue Mountain coffee. So that has really heightened its value too, because Japanese market consumes about ¾ of what's produced. And so-
Brendan: Oh that's incredible.
Blake Widmer: – that demand, that's high end, and then the limited supply just leads to that. We actually don't delve into the Blue Mountain coffee, we use what's called High Mountain coffee. It's just all the coffee grown in Jamaica outside of that Blue Mountain range. Which I think is still a very good coffee, but it doesn't have the certification, and the price associated with it, so we're able to sell a cup of coffee at a very decent price, but it's still a very good quality product.
Brendan: I was going to say it's probably still an amazing coffee to have fresh.
Blake Widmer: Yeah.
Brendan: Well cool. That's a little history for me. I've seen Blue Mountain coffee, I don't think I've ever tried it. I was always curious to learn more about the different regions, and what goes into it and what makes it so special.
Blake Widmer: Exactly.
Brendan: So you did mention going mobile. So you guys, you think you're going to start setting up mobile stations, mobile taps, and draft coffee?
Blake Widmer: Yes, so as the idea of going mobile kind of started to come up to the surface, maybe about six months or so ago, we realized that going mobile is going to be a great way to get our message out, and also get our guys exposure to the marketplace. But a lot of times going mobile access to power supply is tough, so that's where we had a friend of ours say, "Well you know what, what we do back home is we take nitro coffee on tap to farmer's markets using a jockey box." And he's like, "You don't need any power." You can have two people carry everything that you need, an Igloo full of ice and a keg. And so we started looking at that, and that's where we started incorporating nitro coffee into our mobile offering. And in Jamaica, again it's not a big coffee consuming market, but Jamaicans love their beer. Red Stripe beer is very famous as well. Guinness is one of the most in demand beers down here, and so kind of when we go around we're telling people, "We're selling Guinness coffee." It looks like Guinness kind of, it develops that foam head on a little bit like-
Brendan: Sparks an interest.
Blake Widmer: Yes, it's served on nitro, as a stout Guinness beer would be served. And people are starting to hear that and it's catching their attention a little bit. We haven't had a ton of interest in it yet, but I would say that of the people that have been willing to try it, we've gotten very positive feedback. We have a couple customers, two people in particular, that come multiple times a week just to get nitro at the school. So they'll text me and say, "Hey Blake, can I come by now?" And I'll say, "Yes]ah, my guys are there. Come on by." They'll come by, grab a nitro and be on their way, because nobody else is doing it down here.
Brendan: Oh I bet not, it's still, as much as it's grown in the states, it's still relatively new.
Blake Widmer: Exactly.
Brendan: More than 50% of the shops you walk into, you won't see coffee on tap.
Blake Widmer: And so what we're hoping is that, being a market where there's not the traditional coffee consumer, we're hoping that we can shift some of those perceptions, and that people can see nitro coffee as something they're willing to try. Because it's hard to get someone that's never drunken hot coffee in their life. It's hard to convince them that they should try it, because a lot of them have maybe tried it before and they didn't like it, and to get them over that mental barrier of having a hot cup of coffee, especially on a hot day, they're just not even willing to try it. If we can go to them and say, "Hey, we can serve you this cold cup of Guinness coffee on tap here." We're hoping that people will start to try it, and if they try it, we're hoping too that they're going to like it as much as we do, because we feel it's a very good product.
Brendan: Oh, absolutely. I've never been a huge fan of black coffee, but the first time I tried nitro coffee and when I realized that it was a black coffee that I was drinking I was absolutely shocked. It's an entirely different experience.
Well would you mind talking about you guys cold brewing process down there at all, and what you're currently doing to make and serve the nitro coffee?
Blake Widmer: Sure, we started off before we had nitro; we were just in cold brew through a toddy system. So it was the home used Toddy system doing like maybe 12 ounces of coffee at a time making a concentrate. And then we would serve the to customers just two and a half a bottle and the cup. Then the idea of doing the nitro came into play, so in November is when we got our first nitro kegerator system.
And so we started with that and obviously we needed a larger batch, and so right now it's — we're excited about getting the new stainless steel 15 gallon brewing system from you guys that we ordered. But right now we're just using a five gallon bucket and we use almond nut bags, cheese cloth bags put the coffee in there and then sit overnight, and then will siphon it out. And then we actually filter it through the Toddy system just because it provides a really clean easy way for us to filter out the coffee. Then we keg it and put it on nitrogen.
We have both the kegerator fridge version in the coffee shop, and then when we go mobile, we have a small jockey box that we use to serve it off tap. So that's our system right now, but again we're doing like two gallons at a time, and so we'd like to be able to increase that to become more consistent in what we're doing.
Brendan: Got you. Right on, so let me ask you this just this is a question that we actually get a lot and haven't tested anything. Serving nitro coffee through a jockey box, do you get good results with that or is that something that's — do you lose some of that crema that that head that you're looking for when you're pouring nitro coffee?
Blake Widmer: No I don't think so. I've never done on side by side because we just got the one keg that we're operating off of now. I could see maybe where through that stainless steel coil line you lose a little bit of it. But I think the most important aspect is your nitrogen infused in the coffee in the keg? Is well infused? And then are you using a stout tap. Because there is a huge difference between serving the cup of coffee if you're using a regular tap or if you're using stout tap and that restrictive play in the star handle makes all the difference in the world.
When it forces the coffee and the nitrogen passes in small circles, you then get a really good cascade effect in the bubbling. But again I think the key is having that stout faucet and having the keg that's well infused with nitrogen. I don't think the distance in the line that it travels is going to make that much of a difference. I don't feel like there is a substantive difference between the jockey box and a kegerator, as long as you have it infused.
Brendan: And pouring into that play.
Blake Widmer: Yes.
Brendan: That's good to know because like I said, we get questions about that all the time, and I always have a hard time answering because I've never tested myself.
So one of these days very soon I'll be hooking up a jockey box and making the run, but until then. Well cool let's see, I don't have any more questions in front of me here do you — anything else you want to dive into or talk about before we call this?
Blake Widmer: Yeah, maybe just the aspect of how there is a lot more awareness today in the coffee market place, about the ethics of the coffee industry. And there are a lot of mainstream coffee companies, coffee shops, etcetera that are trying to be more socially conscious, with how their coffee is being sourced. But I think one thing that's unique about what we're doing is we're not trying to work with the farmer and develop their agricultural practices, and make sure it's a fair trade, fair price.
What we're actually doing is going into the people group that's oppressed not the farmer but their views, and getting them to be at the top into the value chain. Where they can go operate a mobile coffee shop and make a good amount of money in just a few hours of work, what they may not be able to make in even a week of work somewhere else doing hard labor. So I think that's one interesting thing that we're doing.
And if anybody that's listening to this and they're interested in supporting us you can go online to our website, deafcancoffee.com and you can order a t-shirt. And all the proceeds from t-shirt sales go back into developing the social enterprise that we've started. And then we can also send you a bag of coffee that the boys small batch roast. And along with that we're starting to do some culinary where we're making custom mugs. We don't have any in stock right now but hopefully we'll have some more soon.
So if anybody who listening to this is intrigued by the story and want to be a small part of it, you can go on our website and check it out. Another thing our website is developed and run and managed by one of our deaf graduates. He is in school at the Rochester Institute of Technology in New York studying computer science, and he developed and runs our website. So we're not only trying to show that Deaf Can! through coffee; we're trying to show the Deaf Can! literally do anything.
Brendan: Anything they want.
Blake Widmer: I'm not digging into it but it's gone huge lately, because there is a deaf guy named Nile DeMarco that's basically taken the world by storm through, Dancing With the Stars. He performed last night again and is in first place as a deaf dancer competing against other professional dancers. And so what we're trying to do locally here is just try and break down some of those barriers and stigmas, where people look at somebody and base upon how they look or think or feel, label them and discriminate against them because of that. So that's really what we're all about, and we're excited about the road ahead.
Brendan: Awesome Blake.
Blake Widmer: We're also really excited for Cold Brew Avenue for the forum, this podcast that place where we can look for answers. And I think there is a turn up potential with what's happening within the cold brew and nitro coffee market, as it's growing from its infancy, and is a turn up potential for this place to be where people can come to get answers, to get support and help the rest of the world to appreciate what is a great cup of cold coffee.
Brendan: Yes it's like you said in its infancy, and I was just talking to somebody before I hooked on with you. The guy was saying how he found our eBook that we put out a year and a half ago or so – The Ultimate Guide to Cold Brewed Coffee, and he said there is no information like this. It's awesome that you guys put this out and I started telling him how there was a point where I was getting phone calls all day long, people just asking about this stuff.
So finally my brother and I just said let's do it, let's put a form up where all these people interact and share all their stories, share what's working and what's not working. And I think it's a much better way to grow the cold brew and the draft coffee industry, because it is relatively new still and long way to go. I'm sure we all still have lots to learn in that realm.
Blake Widmer: Yes absolutely. I didn't connect the dots but I remember relying on that Ultimate Guide very, very heavily when we got started about prior — last June when we first did our first cold brew. So I didn't realize that was you guys because I remember reading that book that you guys put out.
Brendan: Yes we started in just home brewing equipment, just actually home brew supplies the malts, the hops, the yeasts and we got sick of keeping stuff that we had a shelf life on. So we got into the hard goods, opened up Keg Outlet and started selling all the draft beer equipment. And it just progressed we just kept putting more and more stuff and kegs and writing about it, and we got a lot of interest in the coffee. So that led us to this point with the forums, the new big cold brew systems and everything else. So it's been fun, \ it's been a fun ride.
Blake Widmer: Well we appreciate what you guys are doing keep it up.
Brendan: We're trying and it's been great in terms of the amount of people that we're meeting, like would I be talking to a guy who's living in Jamaica roasting coffee right now if I hadn't started this.
Blake Widmer: Exactly.
Brendan: Well cool, before we finish this do you mind telling us one more time where people can find you, website, social media, if you want people emailing you?
Blake Widmer: Yes absolutely, so our website is www.deafcancoffee.com. Our email address is deafcancoffee@gmail.com. Then all of our social media we're on Facebook, Twitter and Instagram, everything our handle is just DeafCanCoffee. And in our logo and in our official business name there is an exclamation point after the C in can, because we really want to emphasize the ability that Deaf Can!, and we want that to be emphasized, but in all of our handles is just-
Brendan: And then I got your email the other day and noticed the exclamation point and said, "Oh, we can!"
Blake Widmer: And that's what we are all about. It's how we started with the field trip and this camp, that story living out in what we are doing today.
Brendan: Thanks for listening today. Make sure you go check out Blake and his company Deaf Can Coffee at www.deafcancoffee.com. To find links and shown ups from this episode visit www.dripsanddraughts.com/7. As always, if you got any questions that you would like addressed on a future episode, email them to
questions@coldbrewavenue.com or on Twitter @ColdBrewAvenue. Would you or your company like to be featured on a future episode? Go to www.dripsanddraughts.com; click on "be a guest on the show" and schedule a time to talk with us. Thanks for listening and we hope to see you again.