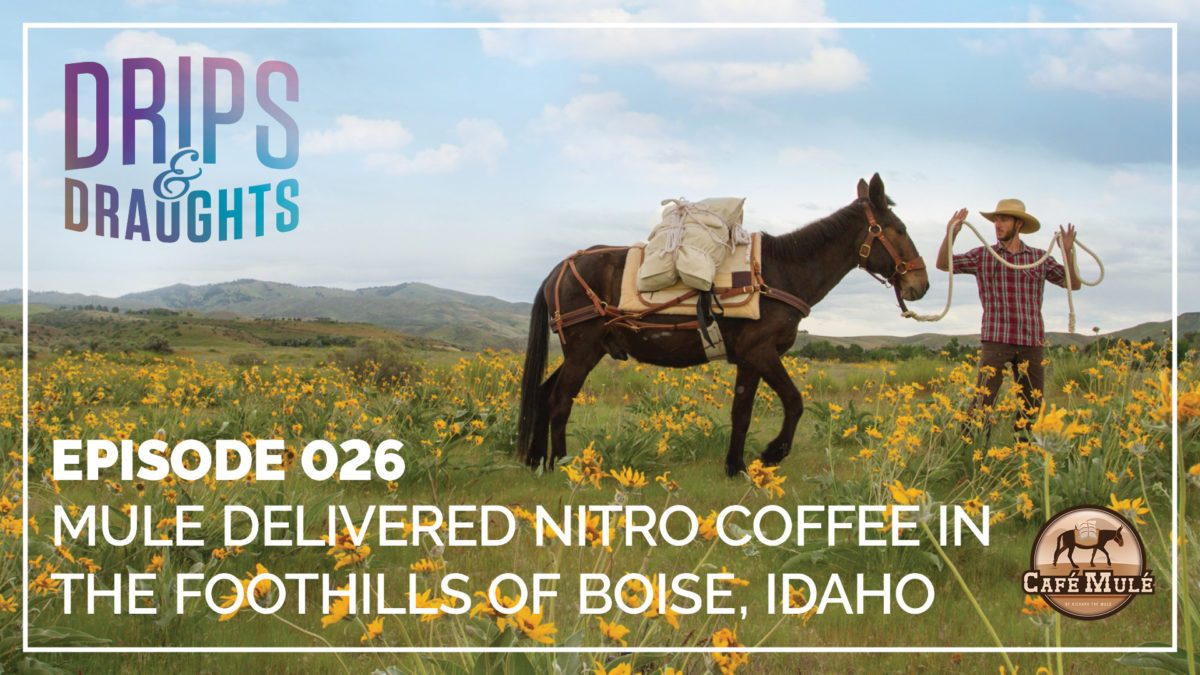 If you are ever traveling through the area you'll naturally want to find a great coffee shop in Boise, Idaho. But one of the best is not actually IN Boise – at least not all the time. What am I talking about? I'm talking about Café Mulé, an incredible coffee service that is focused exclusively on providing cold brew draft coffee for hikers on the trails around Boise, Idaho. The creators of Café Mulé had an amazing idea and kept working until they made it happen. Today I'm chatting with Matty and Andrea of Café Mulé about their unique approach to coffee, hiking, and the combination of the two.
Highlights & Takeaways
[0:49] Welcome to this milestone episode!
[1:43] An iTunes review from a new listener!
[2:28] How you can connect with me via telephone.
[4:00] Matty and Andrea of Café Mulé – who are these two?
[7:13] The adventure races Matty runs in Boise, Idaho.
[9:25] The interesting email Matt sent to me to introduce himself.
[11:35] The "Train Wreck Red Ale" from Crooked Fence Brewing Company.
[13:20] The idea behind Café Mulé – trailside coffee via a pack mule!
[17:33] How Matt spread the word that he was looking for a coffee mule.
[23:30] The reactions of people out on the trail – and how they accept payment.
[29:40] The setbacks that have happened getting the mule coffee service going.
[35:15] The star of the show: Richard the Mule.
[42:22] What's Richard's "personality" like?
[46:01] How old is Richard and the story behind how they found and purchased him.
[51:00] Partners the Café Mulé team has worked with and want to recognize.
[56:36] How you can connect with us in the Cold Brew Avenue Private Community.
What we mentioned on during this show
---
Episode 26 Review
One of the coolest things I can think of is having fresh coffee on the hiking trail
That's also what Matty thought when he was looking for a business idea. He loved coffee. He loved hiking. And he loved the Boise, Idaho area. So he thought there had to be a way to merge those three great loves. As the wheels started turning he thought – a coffee shop in Boise – portable – on a mule!
OK, so it's not what you might have thought of but hey – This is Matty's story. On this episode, you can hear all about working through the details to make trail coffee cold brew a reality, including Matty's search for just the right mule (who's 18 years old, not 13 like they were told), connecting with his partner Andrea, and how the entire community of hikers and nature lovers came together to make the dream a reality.
Meet Richard the Mule: The Star of Café Mulé
If you know animals at all you know they each have their own personality and Richard the mule is no different. By now he kind of knows the trailside coffee routine and starts making his desires known as it gets close to quitting time each day. But he's also sweet, fun for the folks who enjoy his coffee service, and quite the ladies man. At least that's what Andrea told me.
So grab your own cup and settle in for this episode with Matty and Andrew of Café Mulé. It's a great story of creativity, innovation, and love of coffee and hiking. And if you're ever in Boise, Idaho – you should go meet Richard in person!
Connect With Drips and Draughts
Our Sponsor: Keg Outlet takes pride in homebrewing and making beverages to serve on draft. They'd like to change the way that you serve your favorite craft beverage too. Whether it be beer, coffee, soda, wine, tea or something else, they'd love nothing more than to help you bring something new to the table. Keg Outlet's mission is to empower craft beverage lovers by providing great customer service, product knowledge, expertise and quality products at competitive prices. Coffee that pours and drinks like a Guinness? Professional brewery equipment for use at home? A simple kit to get you started with serving draft beverages? Whatever it is that you need, KO is here to help! Contact Keg Outlet.
Mentioned in this Show