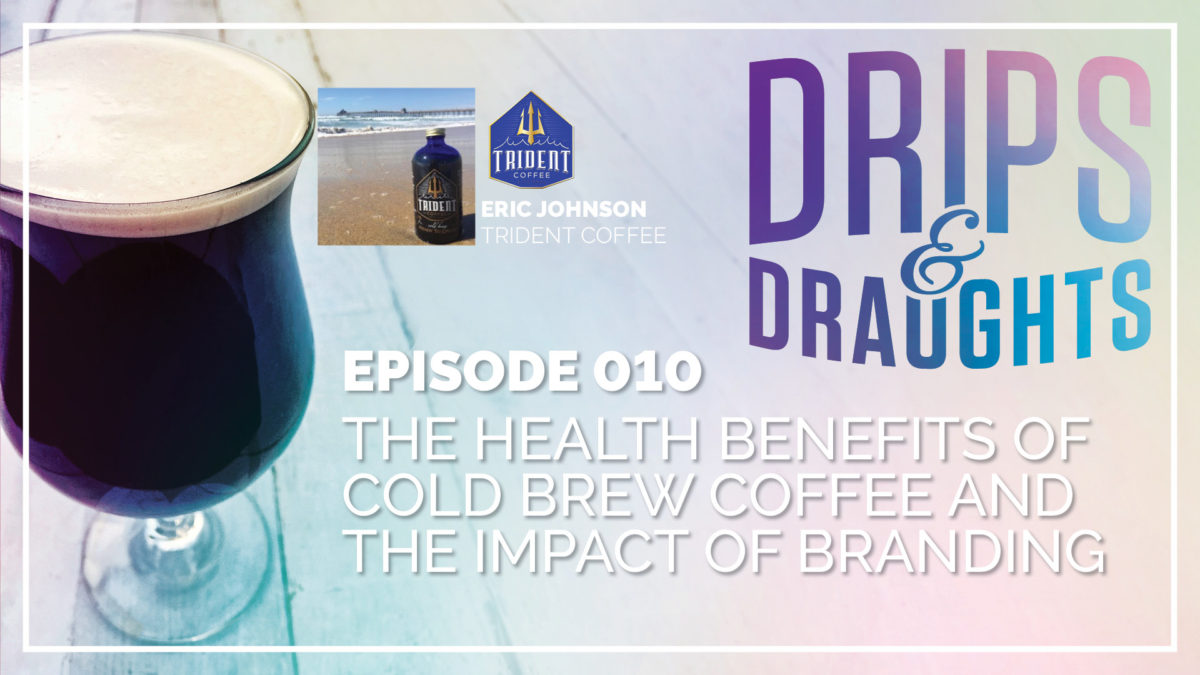 In episode 10, we're joined by Eric Johnson from Trident Coffee in San Diego, California. Eric was our first "in studio" guest for the podcast, and if you listen to the end, you'll find out "in studio" is in quotes. Despite the "studio" setting, we had a great conversation with Eric about his company Trident Coffee, the importance of branding, the health benefits of cold brew coffee and we also get Eric's take on the current state and the future of cold brew coffee.
Highlights, Takeaways & Links
Branding and commonality through branding elements
Peltier Glassworks – create the Trident Coffee blue bottles
MCT oils and companies like Bulletproof coffee are showcasing how coffee can be a healthy beverage too.
---
Episode 10 Transcript
Brendan Hanson: Hey there, and welcome to the 10th episodes of the Drips and Draughts podcast. Today we're joined by Eric Johnson from Trident Coffee company in San Diego, California. Eric runs Trident Coffee Company with his brother, and a very good friend which I can relate to, because I run Keg Outlet and Cold Brew Avenue with my brother Cary.
In today's episode we discuss branding with Eric. Trident coffee does a great job with branding, and tying in the same theme and the same logo throughout all the merchandise from their bottles, to their tap handles, to the shirts, and their hats. They do a great job integrating both their logo and their colors throughout all their merchandise, and all their products. It's something that really makes them stand out.
In addition to branding we also discuss their cold brew process. The types of beans they use, the roast levels they prefer, as well as their steeping times while making the cold brew.
I'm constantly getting questions about what roast level should I use when I'm making cold brew. So I kind a put Eric on the spot and asked him what they use, and what he'd recommend. In fact I might start forwarding all those questions to him and just let him answer them.
In addition to the cold brewing process we also discussed the health benefits of cold brew coffee. This is something that I had never really looked into, so it's really cool to hear Eric take on this, and some of the info and facts about how cold brew coffee is actually more healthy for you.
Then of course we asked Eric what his thoughts on where coffee is currently at, and where he thinks it's going in the next one, to three, to five years.
So without further ado let's get into the episode. If you're looking for this show notes or links to anything that we discussed today, you can find them at dripsanddraughts.com/10.
[Musical Interlude]
Brendan: Alright. Welcome back to the Drifts & Drafts podcast. I'm Brendan Hanson. Today we're joined by Eric Johnson from Trident Coffee company in San Diego, California. Welcome Eric, you're the first in-studio guest, and we're happy to have you here.
Eric Johnson: Thanks so much for having me. It's great to stop and see you face-to-face.
Brendan: Right on. Well, give us a little background on Trident coffee company, and how you guys got started, when you guys started. I guess you've got two business partners, so maybe a little bit about them as well?
Eric: Absolutely. We kind of kicked this whole thing off last, at the end of tail of last summer, was going through, and was looking at something else to do, vice join the kind of the corporate grind and for me coffee is always a big part of my life growing up, so kind a dove into that, and cold brew seem to be a great avenue.
With that brought on my brother, Matt, and another business partner Keegan. We all have different ties to what makes coffee special to us and important to us. We're actually really excited to kind a see where this goes, and take it off, and grow the business.
Brendan: So cold brew is the specific market that you guys we're looking to get into obviously?
Eric: Absolutely right away. Way we kind a looked at it it's fairly untapped and has lot of a potential to growth, but what it does for us is the active lifestyle we like to have is perfect for it. A lot of it you can kind get away with additional health benefits, and different packaging methods that you can't do it with hot coffee. You can get out and explore little bit more, and do more things that you love with cold brew.
Brendan: Right. Yes. I never even thought of that, but yes, it does make it easy to throw a bottle of cold brew in your bag when you go out hiking, or biking, or running, or whatever it might be. Nice.
One of the things we wanted to talk to you about was branding, you guys have some great branding. You brought us a couple of bottles here today. I'm looking at one right now that's — they're awesome, they're beautiful actually. Tell us a little bit about the Trident logo, how you guys came up with that, and we can get into the bottles, and your tap handles.
Eric: Absolutely. For us, my brother and I from San Diego, and Keegan is as well. The three of us growing up there, being around the beach, being around lakes, being around the ocean. It really tied it together for us, as Poseidon held the trident and he controlled all the seven seas and had the power of the ocean through that. We kind a really dove into that, with the three of us the — three prongs of the trident.
It really means a lot to us from a nautical sense. Both Keegan and I are military — navy side, so that kind a really brings a lot together for us in terms of the nautical theme, and the power that it brings for us.
Brendan: Nice. Yeah, for those of you who maybe haven't seen Eric's branding bottles, you can check 'em out at — you guys are tridentcoffee.com?
Eric: Yes.
Brendan: These bottles are absolutely beautiful. They're cobalt blue, and they're screen printed or painted?
Eric: Yes. We work with a screen printer in Paso Robles and they do phenomenal work. They do a lot of obviously more for wine, but we did a collaboration with them, and they just put a phenomenal products. So Peltier Glassworks of Paso Robles has done great work for us.
Brendan: Yes. These things are amazing. If you haven't, at least check them out online if — can people order these online yet?
Eric: We're still finalizing the last little bit for onlining sales, and now will be up hopefully by the end of June.
Brendan: Okay. Yeah, these are amazing. In additional to these bottles you guys have some really great tap handles. Tell us a little bit about the tap handles? Do you guys make those? Do you commission somebody to make those for you?
Eric: Yeah, we lucked out. We have lot of good connections with woodworking. One of our friends who isn't the military, he has a side business that does woodworking. Kincaid Woodworking. We gave him the premise of what we wanted, and he use all of his tools through his shop and create us a tap handles. We we really love about it is, it really kind catches peoples eyes.
After they're kind a manufactured from our friend, I go get through and we'll wrap 'em kind of paracord wrap, which is kind a big tradition in military, at least for us — for kind a go in a way presents. Kinda gives us the nice old craft artisan feel that time that was put into this product. It catches people's eyes as soon as they walk into the place that has tap handle like, "What is that," right away. Stands are taller than most of the tap handles. It's got a really nice bold look so we're pretty excited about 'em.
Brendan: Yes. Those tap handles are awesome. Yeah, when I was checking your guys out yesterday, I saw one of the pictures that I was wondering what they were wrapped with, kind a like your dog leash there.
Eric: Yes. Paracord wrap is, again, 550 core for those in the military know what it's about, very high tensile strength stuff, but you can really do some cool craft things with it. There's tons of books out on how to wrap paracord and do different things with it.
Brendan: Yeah, you guys got that spiral going down, and then I think you actually have the word "Nitro" written in it as well?
Eric: Yeah, so that takes a little bit more time. They're little bit time consuming, but learned a few tricks of the trade from some of the guys I've worked with, you do these for kinda going away presents. Learned how to write "Nitro" or do custom tap handles for a few people with their acronym for their company name or what not.
Brendan: That is awesome, because you guys are not only putting craft in coffee but in your tap handles as well, there's obviously a lot of workmanship that goes into everything, from the wood to the wrap. They're really beautiful. They're works of art. Yes, very cool.
Moving along, let's start talking about some of your cold brewing. Would you mind sharing your process a little bit, as long as we're not asking for some trade secrets?
Eric: [laughs] No, absolutely. The funny thing is as lot of the stuff that we've got originally for our equipment is through Keg Outlet, and that has been a great source for us. Equipments phenomenal, stainless steel cold brewing batches, and gives us the same consistency we want every time. They're real to easy clean, being all stainless steel. It doesn't impart to many different flavors like a cloth, or plastic type filter, or five gallon bucket, you can get some distinctive flavors or oil build up on that. Using stainless steel products have been great.
Using our ratio and our blend we found over several different trial and errors, and R&D — we found our favorite batch. It works really great, because we get a lot of good feedback on the beans that we use, the roast levels. Then going from there it's been fun to start doing more and more R&D up to batches like couple of hundred. Drink plenty of coffee throughout the day and not throughout the night. It's fun for us.
Brendan: What's your bean of choice, if you don't mind sharing? What roast level — that's one of the questions that we probably get the most. I prefer medium roast, but I tell everybody it's obviously a preference.
Eric: Absolutely. From when we found and done our trial and error, we do a nice blend from Brazilian and Guatemalan beans, and medium to dark roast works well more for us. It gives the same kind of nice caramel coffee flavor, but you still get a little bit of the inherent qualities from the floral and fruity notes from the coffee.
Brendan: Okay. Well, I'm going to start turning people your way when they ask that question.
Eric: Sounds good.
[laughter]
Brendan: Would you mind sharing your ratio or we're getting too specific if I ask about that?
Eric: No, no. What kind of how we do for our blends is that it's a 50/50 mix for us. Then as we get our concentrate out, we found pretty much at 1:1 gives it the most palatable for to general audience. We had a few people say, "It's a little bit too weak." We have a little people say, "It's just perfect." A lot of it now boils down to — everyone has their own personal preference for coffee, and especially when people are drinking a black, which is kind of new novelty with cold brew — it's new to them. They don't know what their palette suppose to be there. They're use to really burnt beans, or really bitter flavors.
Brendan: Or really sugary.
Eric: Yes, or exactly. Doing this and we've gotten, again, phenomenal feedback from a lot of people who have never really enjoyed black coffee before with this ratio.
Brendan: Okay. And that's one to one you said.
Eric: Yes.
Brendan: One pound to one gallon.
Eric: Yes. So, for us it's one pound for gallon.
Brendan: Okay. We had everything in between, one liter to one kilo.
Eric: Yes.
Brendan: So, always curious what the ratios are. And, you guys do the bottled, ready to drink. You also do nitro coffee on tap.
Eric: Correct.
Brendan: Do your recipes change for those?
Eric: No. We found it very consistently. What's nice about the nitro, it adds just a different texture, creaminess and it brings out a little bit more of the kind of the caramel and chocolate notes. So, nothing different in our process, it's obviously at that point we're kegging it and charging it with nitrogen, a little bit higher PSI than we would for serving it flat or serving out of our bottles.
Brendan: Sure. And then as you guys grow, obviously, you've experimented with a lot of beans and roasts. Do you see putting in different styles on tap?
Eric: Yes. So, that's kind of what we'd like to do is really kind of make it more of a, again, truly craft feel where you can come in and we have a flavor profile that meets everyone's likings at some point. So, they can mix and match like you would for a tasting room for a brewery. You can go and like, "Hey, IPAs are not my style but I really like stouts". So, we'd like to get to that and really bring kind of the craft to influence a little bit more deeper level than just a single orange in or a blend. You can really dive in and file a lot of good flavor profiles out of coffee.
Brendan: So, we'll eventually see different bottles of Trident Coffee.
Eric: Absolutely, we have a lot of good plans for that.
Brendan: Great. So, one of the things you brought up that I really have no idea about were some of the health benefits of coffee, and not just coffee but cold brewing specifically. So, maybe if you could give us just a brief overview and then we could dive into a couple of questions.
Eric: Absolutely, yes. The really nice thing that's enjoyable about cold brew is that one, right off the bat, it's a lot less bitter so that the flavor profile is better for people. But one kind of hidden thing is that, we've done lots of tests now, is actually the pH level. So, we've taken our pH meter and done tons of analysis on it. And, we found out that it's on a higher pH level than most of hot press coffee or any sort of traditional coffee.
So, it means for you is that as you digest it, less stomach acid is being used. And it's readily absorbed by your body better than creating more of acidic profile. You're now more of a basic profile which is you tie it back to like the pH diets and a lot of things that people are going through where you want your body to be more alkaline than acidic.
Brendan: Right.
Eric: And so, that's definitely one of the benefits of cold brew coffee is that it brings that pH balance a little bit better into the mix. So, for the most part people are very sick throughout the day with coffee, beer, soda –
Brendan: Everything they eat.
Eric: – all that other stuff. And then this allows us to kind of bring it back a little bit more of the center.
Brendan: Okay. Well, yes, interesting kind of a tangent right now. But we've got an RO system at home. I'll drink alkaline water at night every now and then. Have you ever considered or have you guys ever done any testing brewing with alkaline water versus purified water versus even acidic water?
Eric: Not really dive into that too much. We obviously want to go for the most kind of pure water so we do purification just to remove any of the kind of heavy metals or whatnot. So, really you're only brewing with coffee beans and water to kind of get the most control of those two allows us to kind of have a better quality control products. So, it'll be interesting to see how that plays out. But for us we haven't done too much experiments with the pH levels or whatnot of the water.
Brendan: Messing with the water first or rather than just using a purified water.
Eric: Yes.
Brendan: Okay. So, going back to the health benefits of coffee, how does the bean selection contribute to or detract from benefits when you're cold brewing?
Eric: So, I think for the most part, the bean selection will be relatively the same for about the different kind of health benefits. What will kind of impact is the roasting level. So, there's been a lot of kind of studies recently done that a lighter roast is going to have more chlorogenic acid which is anti-inflammatory. So, it has a lot of kind of hidden health benefits that are starting to get uncovered. And, it also has more caffeine. So, the longer you roast, the more it burns off naturally because the heat and the chemical reaction that you have, you're going to burn more of the caffeine than more of the chlorogenic acid.
Brendan: Okay. So, you're actually able to change the bean as you're roasting it to change the health benefits.
Eric: Absolutely, so couple of companies are looking at that right now and really diving in. And I think Bulletproof Coffee is one that's really kind of brought it to life with also adding certain things to is the MCT oils and the clarified butter. And as for people who are on like ketogenic type diets and/or kind of more intermittent fasting. So, using a couple of different things to look at it, cold brew really does open up the avenues for added health benefits that are even secondary and tertiary effects that people aren't necessarily thinking about day to day basis.
Brendan: Sure. Interesting. Well, and just kind of on a broader scale, how does cold brew maybe differ from hot brewed coffee in terms of health benefits and what it does to your body when you're drinking it?
Eric: So, the biggest thing that we've kind of found and kind of just did our research on is really kind of boils back to the pH level.
Brendan: pH.
Eric: So, as you go through, you're adding pressure and hot water, or normal traditional style you mix your coffee pot or espresso machine. And so, that is really extracting a lot of the acid off the bean because of the pressure and hot water situation. Whilst in the cold brew allows it to just kind of basically sit naturally with the coffee bean so there's really no forced interaction between the water and coffee. And so, you really get a more of a natural kind of outtake from it. And, with that you don't really extract either the bitterness or acid that you would necessarily take off in hot method.
Brendan: And I think that's what draws so many people into cold brew coffee is they get this rich smooth drink that they've never tried before. It's eye-opening once somebody tries a cold brew for the first time.
Eric: Absolutely, so for the most part, my dad was a very stubborn coffee drinker. He had to have his cream and sugar every time. And he would use a French press and I remember kind of offering to him the first time, because he was a very much creature of habit. He tried out our nitro and really, really enjoyed it, and comes back for more. So, that's a good sign that if we can kind of change my dad's approach to coffee, there's a lot of people out there who probably haven't tried it who I think would be very open to what cold brew brings to the table.
Brendan: Absolutely. And I think that's one of the health benefits as well as nitro coffee. I can drink it black. I'm usually not a black coffee drinker but just the nitrogenation process really changes the taste and the mouthfeel of the coffee. It makes it more bold and more rich. And, as you said, it brings out chocolaty and caramel notes.
Eric: Absolutely, and that's kind of one of the secondary effects of cold brews that if you are able to drink it black you don't have to add cream or sugar or some of the other things that can cause some health problems down the line with the additional insulin spikes and sugar intake. So, for us that's what we like about it most is that we like being active. We like being outdoors. We like being connected with the ocean. So, any time that's not going to slow us down with kind of a heavier adding cream or sugar, that gets perfect for us.
Brendan: Absolutely. Sure is. Right on. Anything else you might want to add about the health benefits before we kind of move on from that?
Eric: Just, again, tie in a little bit more. I know Bulletproof Coffee does this a lot. They're out at Santa Monica and they are adding clarified butter and MCT oils to theirs and blending it up. And that's great for people who are obviously trying to control sugar intake. The MCT oils are broken down a lot faster into the body in the blood stream than normal fats. And so, you're able to use them readily available as energy for mental clarity and day to day functions. And so, people who have tried that with ketogenic type diets or intermittent fasting have seen great results of high sustained energy throughout the day. You don't have a crash and again, those fats have actually been proven to kind of help with body weight management too. So, helping you lose fat by actually in taking fat.
Brendan: Interesting. I'm going to have to search one of those out and try that.
Eric: Yes. They're very good. Again, they actually have that creamy buttery texture that's a little bit different. Again, I know people are scared of high fat sometimes but we love it.
Brendan: Cool. Yes, as I mentioned, Cary and I are heading down to San Diego in a couple of weeks. So, we might have to swing through Santa Monica on the way and give them a shot.
Eric: Come by, you can have one of our home blends. We'll make one for you.
Brendan: Awesome. So, lastly, we talked a little bit before the show about the future of craft coffee and last week's episode where we had Bradford Lowry on speaking about the waves of coffee. And specifically the third wave and some of the leaders in the third wave, Intellignetsia, Stumptown, and sharing knowledge about coffee and the cold brew process. Where do you see coffee currently? Where do you see it going?
Eric: You know for those who do shop at Whole Foods or some of the more health food stores, you see now there is a cold brew selection everywhere. Like you said from Stumptown to Seaworthy to a few other companies that are out there that are kind of more local because Whole Foods carry local people. But it's allowing a different market that has not really been tapped into. People are very accustomed to going in and getting a Dunkin Donuts or Starbucks – they want it hot and they want it with cream and sugar to get their day started. So, with this there's only a few companies out there that are able to package and manufacture and ship it.
And so, I see this as just kind of the front end of what craft coffee can truly be. If you hit a third wave of more of the espresso latte art and this and the other, you can't really truly express all the nuances of coffee through that method because you're masking it with a bunch of other different additives. So, with the cold brew method you can really dive into all the different flavor profiles that a Kenyan bean can offer or Ethiopian or Columbian or Brazilian. And so it opens up the aperture a lot for people who want to bring craft coffee to the scene. So, we have kind of looked at Bird Rock Roasters in San Diego where the owner will go out and do direct sourcing from these coffee beans. And he really brings out the best flavour profiles from that. And he wants to educate people on that. It's not just your father or mother's drink where you just add cream and sugar and go. You can really sit down and connect with the coffee and really enjoy it to where you can pick out the subtle nuances. So, he does cupping events and things like that. We're just on the tip end of where craft coffee, where craft breweries where 15, 20 years ago.
Brendan: Sure. Yes, as I've said in many other shows, I've been in the beer scene a lot longer and I've appreciated beers for what they are, the ingredients that go into them. And now, as I get more of the coffee, I find myself doing that with coffees, wanting to learn about them, where they were grown, what roasts are playing a part in all these labors. So, it's really cool to see coffee growing that way.
Eric: Absolutely. I think we briefly talked about this before the podcast interview where the consumers are being very well educated on the coffee source selection really from farm – "from seed cup" has become a very popular term where people want to be engaged with the process along the way. They want to know how the farmers treating their supply and how the distributors packaging it and how the makers making it.
So, you have a bunch of organizations out there that are really tied into making sure that the coffee is sustainable down the line, but also is grown in a kind of a renewable type of environment where —
Brendan: Renewable, responsible.
Eric: Yes. All that connection to where a lot of that is kind of going with the millennial crowd. They are very engaged with that. So, it's definitely fun to see as it's interesting to see how all these different companies are kind of playing off that for marketing purposes. But again, the model is that great coffee is great coffee regardless of the certification that can come with. As long as you meet with the farmers and you see the process. Having organic stamp on it, it means a lot but at the same time I don't think it's the most important because you can get great coffee at a 94 rating. That's still a great coffee at a 94 rating.
Brendan: Absolutely. We talked about this last week a little bit, was the shift in the market from just wanting coffee to wanting craft coffees. Do you have any feedback or maybe input on what do you think helps cause that market shift? Obviously, companies started educating but there was obviously a little change in the consumer mind-set as well. Any ideas? You're obviously a health conscious guy and we can't say that a hundred percent of Americans are health conscious [chuckles] by any means. But what do you think might have started to cause that shift?
Eric: Honestly, I think it was just the sharing available via social media, internet, and whatnot. So, people want to see a lot of transparency in the products that they are consuming. So, anything from documentaries or things along the lines for sourcing trips to things like that nature. People like to be engaged with what they're buying and consuming. So, it's more of kind of for them it's self-awareness of like, "Hey, this is the product that we're buying into. We believe in it so we're going to buy into it." I don't think a lot of the millennials have the stamp like, "Yes, we believe." They don't want to press the "I believe" button.
Brendan: [laughs]
Eric: They want to actually dive into it and really peel back the onion on what they're supporting.
Brendan: Sure. Okay. That makes sense. And, yes, I guess with the availability of information. It's no reason not to go educate yourself and learn more.
Eric: Absolutely, and, again, the transparency and the education piece is what's going to bring this thing around kind of full circle. So, again, you've tapped on to a lot where the brewery scene was very transparent with like, "Hey brew methodology and here's how we've been doing stuff." And it's more of a community than anything. The only way you make craft coffee better is by letting it grow. By holding on to information and kind of being really reserved about it, yes, I mean you can have a successful company but you're not going to let the craft grow itself, which is kind of what I think most people's intentions are.
Brendan: It's interesting. Yes, I see both beer brewing and coffee as more of a community than a competition between companies. It's a really cool market to be part of.
Eric: Yes, so at the end of this month, on the 25th, down San Diego, there is SD Coffee Network is holding a competition for local breweries or local coffee companies to do their cold brew. So, they're going to select the best cold brew and the best specialty cold brew, the nitro or added flavour. So, go in there and kind of hopefully networking with people and expanding off is what we do here at Cold Brew Avenue is going to be a lot of fun to really dive in and create that community that you guys have started here.
Brendan: Nice, right on. So, speaking of that community and where cold brew and where craft coffee might be going, where do you think, we've mentioned the third wave of coffee, we're probably entering a fourth wave of coffee with on-demand type stuff. Where do you think coffee's going to go next one to five years?
Eric: I think we're going to see a lot more stuff readily available in pre-packaged solutions. So, you're still going to have the need for craft where people can go into their favourite coffee shops and order it because they go there because they buy into the
Brendan: People want to go hang out.
Eric: Yes. For us, coffee is very community driven. I love the connection it has with people. The reason why I drink coffee is because it's supposed to be sitting across from somebody face to face and talking, not on a cell phone or not engaged off in a distant land where you're not paying attention to the present.
Brendan: Sure.
Eric: So, that's kind of the reasons why we love coffee so much is that it brings people together. Between water, tea, coffee and beer, those are the four most consumed beverages in the world.
Brendan: Yes.

Eric: And, coffee is the number two traded commodity besides oil. So, it's just one of those things where it has tons of connections from start to finish. And if you can tie that into your story it just makes it better. I really like the community aspect of it. I think you're going to see a lot more independent coffee shops come up with that and have the ability to, again, create a craft kind of feel, kind of what microbreweries and nano-breweries are doing now. They go to a neighborhood and really kind of that's their neighborhood. Everyone on the street corner knows them.
So, it's not going to be very much we have the third wave guys, where the second wave guys at Starbucks have started that. People will still go because they know it. But I think you're going to see a lot more people who want to connect to the coffee than before.
Brendan: Yes. And you guys are from San Diego. You've got hundreds of craft breweries down there. So, it's awesome to see coffee shops. Like you said, it's basically going to be people supporting these smaller craft coffee companies rather than going to Starbucks or Coffee Bean, the big guys. Obviously those will always exist but I like to go search out craft breweries, small ones that I've never seen, never been to, never heard of. And I can definitely see that happening with coffee.
Eric: Yes, because the one thing the reason why I think people go to those craft or micro and nano breweries is because there's the passion behind with brewers or people behind the company. I mean if you go into any of the craft things like people even working the register, whoever, it doesn't really matter who they are, they believe in the product. They want to tell you about their product because they're so passionate about it. And I think that's we're coffee's going is that you can dive into so many different things with coffee and really express you passion through your products.
Brendan: Yes. Absolutely. We're cool. I think we're about done here unless you want to add anything.
Eric: No. I think that really covers a lot of stuffs that kind of who we are what we are about and kind of our thought process toward cold brew specifically but coffee in general.
Brendan: Right on. Well, if people want to find you and learn more about you guys where can they go to do that?
Eric: We have our website tridentcoffee.com and we do a lot of social media advertising on our Instagram page @tridentcoffee.
Brendan: Okay. All right, Eric. Thanks for joining us today. Best of luck.
Eric: Thanks so much for having me. I appreciate it.
Brendan: Once again, thanks to Eric for stopping by the "studio" today. I'm actually making air quotes as I say studio because our "studio" is our office which is completely dishevelled right now. We've been moving the past couple months and it's just a mess. So, apologies to Eric. We promise that next time we do this the kegerator will be up and running. We'll have some coffee on draft. We might even have an actual chair for you next time so you don't have to sit on a step ladder. And there's a good chance that next time you visit, we may actually have a dog bed in our office. So, Pica could get comfortable while we talk.
Alright, enough about the furnishings at our office or lack thereof. Make sure you go check out Trident Coffee at tridentcoffee.com. If you're looking for the show notes for this episode, you can find them at dripsanddraughts.com/10.
And finally, our last bit of business for today. If you're getting any value from this podcast please stop by iTunes and leave us a review. If you don't know how to leave a review go to our website, dripsanddraughts.com/review and we'll show you how. It's quick. It's easy. It'll take you less than a minute and it'll really help our show out.
Thanks to all of you who have already subscribed and downloaded our show and those of you who have left reviews. Thanks to you guys we've popped up into the New & Noteworthy section for a brief amount of time in the hobbies category of iTunes. So, help us out, subscribe, leave a review, and enjoy your weekend. We'll see you next Friday on Drips & Draughts.